June 24, 2020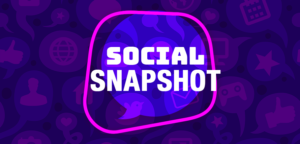 So many insights and developments in one week – let's get right to it with our Social Snapshot!
TikTok reveals how its algorithm works
TikTok is working hard to demonstrate it is a transparent company, with this week providing another level of transparency – explaining how its recommendations algorithm works, how videos gain traction, and even how they don't.
Learn more here
Twitter soft-launches audio Tweets on iOS
Sometimes 280 characters aren't enough, and plenty of people today talk exclusively through voice memos over WhatsApp. Now, Twitter is testing a new feature that will allow you record your own message for up to 140 seconds of audio.
Learn more here
Instagram will allow Advertisers to create ads without linking to Facebook
Recently, Instagram updated its ad's features to allow creators to directly make money through the platform – now linking to a Facebook Page might no longer be required.
Learn more here
LinkedIn expands roll-out of LinkedIn Stories to Australia
First launching in Brazil, the Netherlands and the UAE, now users in Australia will receive access to LinkedIn's story feature – functioning largely the same as they do on Facebook and Instagram.
Learn more here
Instagram tests shopping tags in post captions
Some Instagram profiles now have the ability to add product tags to their post captions, letting users go straight through to a shoppable product page. The feature is one of many supporting Instagram's growing focus on eCommerce. 
Learn more here
Facebook offers option to opt-out of political ads
While being mainly focused on the United States, Mark Zuckerberg announced Facebook would be offering users the option to switch off political ads entirely – building on the options introduced in January that allowed for limited targeting by political advertisers.
Learn more here