November 3, 2015
Social data is unstructured data. It needs a framework to corral the noise into making sense. Beyond the structuring of the numbers though, lies the real value in social data: The insights.
Last week I found myself in a room full of data geeks (my idea of heaven) listening to Chris Kerns, author of Trendology and VP of insights and research at Spredfast. A fascinating talk that highlighted the need to dig deep into data to interpret the findings. But more importantly, it made me realise that whilst the numbers count so too does creativity, common sense and a big pot of curiosity.
Social data analysis required researchers to spot patterns, solve puzzles and extrapolate data to predict what might happen.
Let me explain:
There is truth in data – debunking the myths
Let's start by talking about how social data can confirm or debunk current thinking. For instance, American marketers and agency folk are rumoured to say that the US is about 18 months ahead of Europe in their approach to social media.
Initial data analysis of brand profiles suggests that America is indeed slightly ahead in its social marketing (although there is not much in it – well not 18 months ahead!)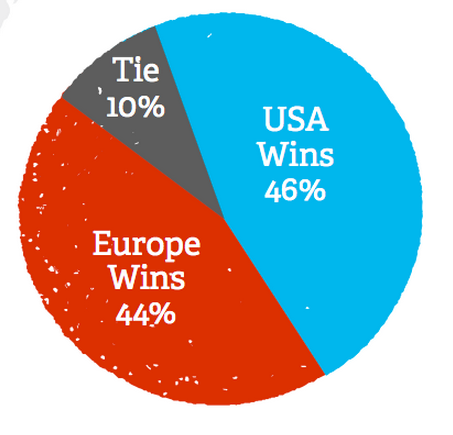 However, on digging deeper, beyond the vanity metrics, you begin to solve the puzzle further. Because engagement data and follower bases reveal that Europe is slightly ahead of America! Debunking the rumour and demonstrating that data often reveals the truth of what is actually happening.
The data demonstrates results too (or why data must be part of your social evaluation)
Hijacking social trends is falling out of favour with marketers. Partly because there have been some spectacular disasters with brands jumping on the bandwagon and missing the mark. And partly because real-time trends can be a challenge to implement.
Chris took a look at some of the big trends this year and discovered that engagement increased substantially for brands that took part.
Remember THAT dress? The blue / black or gold / white one? Well the 126 brands that joined that trend saw a +526% increase in engagement.
And the wonderful Great British Bake off trend resulted in participating brands increasing performance on posts by +5000%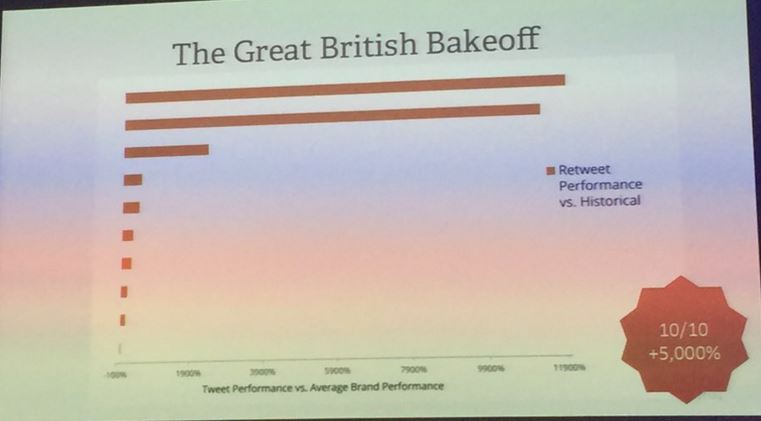 Seems that whilst trend-jacking is out of favour, the results reveal impact can be achieved with targeted and relevant posts.
Social Sherlock skills required
Identifying consumer intentions can be very challenging. The trouble is people don't often tell you what they are doing and thinking. For example, if asked, most people would say they are not influenced by advertising. Yet the data says otherwise.
On social, you need to look under the social data. Because shockingly (wry smile) people LIE on social media!
Chris took a look at posts on Instagram. In particular, those hash-tagged #nofilter. Lifting the lid on the data, he uncovered that 11% were in fact using filters, but hash-tagging as though the picture was filter free.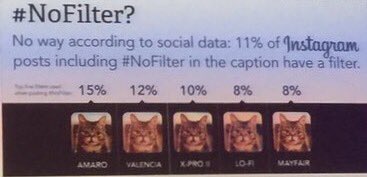 Sometimes, you need to sleuth through the data to uncover the real insight.
Scrutinise the social stats too
A word of warning. Whilst looking for patterns and solving puzzles to uncover nuggets of insight is thoroughly enjoyable, you also need to scrutinise your findings. Never more so than when drawing conclusions.
This is rather aptly demonstrated by the Spurious Correlations website. Not all data that fits into patterns actually means anything.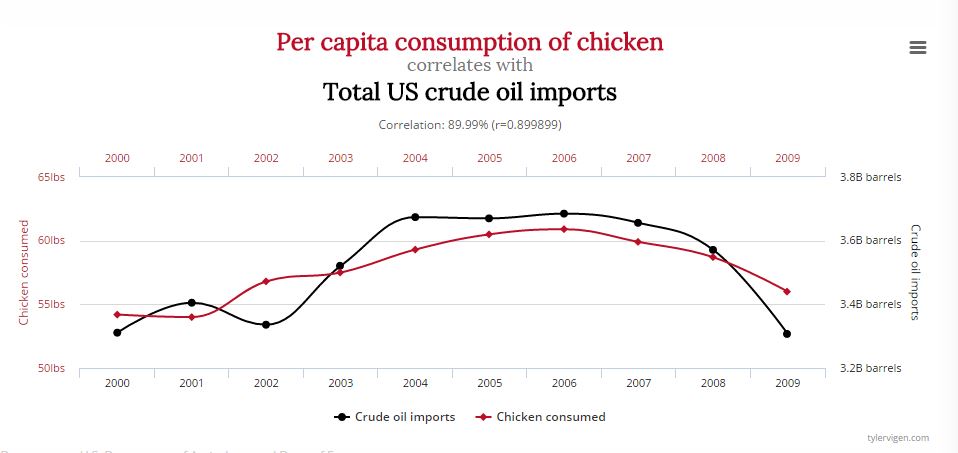 Investigating and crunching social data is very rewarding. Not just in delivering insight that adds business value, but on a personal level too (it is enormous fun!). You get to solve puzzles, uncover hidden insight and predict and plan for success. Enjoy!