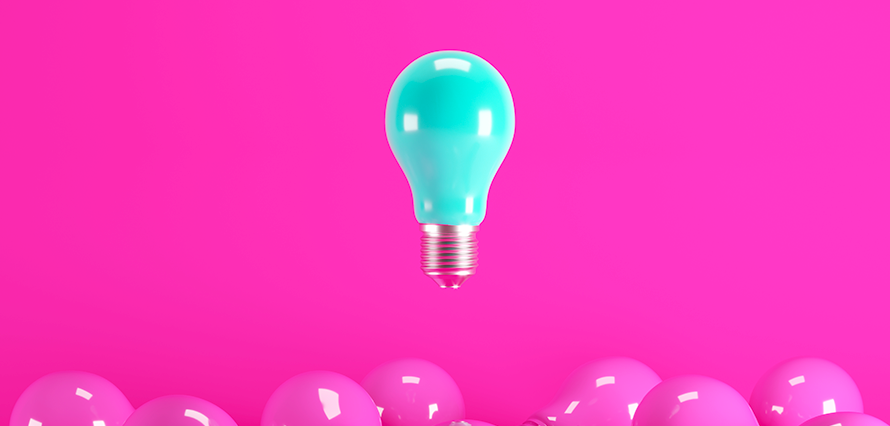 Let me be clear I am not suggesting plagiarism. There is enough of that in the creative industries as it is. Instead I believe, whilst we are locked behind screens and away from the serendipity of the water cooler 'eureka' moments, we need to work hard to find inspiration.
Mark Twain said that there's no such thing as an original idea.  And over the years working in marketing, I tend to agree. Most ideas are a collaboration of many ideas, a germ of a concept exploded out with different angles or viewed through different lenses.
In social, creating content requires lots and lots of ideas. It needs creativity and creative thinking. After all you are not churning-out posts. You want to be creating entertaining, informative, relevant content. The stuff the captures and enthuses.
One place to go for inspiration is outside your own industry. Analogous fields or even totally non-aligned markets can make you think differently; force your brain to innovate. They can be sparks that get your creative juices flowing and fire up your imagination for original content based on a multitude of ideas already out there.
But if you are to benefit, then you need to do more than skim through another marketers activity. You have to dig really deep. Go beyond the obvious or the on trend. We did just that with the insurance industry in our latest report. And whilst the insight is tailored to finance, digging deep, it reveals seeds of ideas that can apply to any category. Let me explain:
A new behaviour?
Ok, not a new behaviour, but a change in behaviour that is likely to stay for some time. Social has always been connected to the real world. But now instead of spikes and trends of interest driven by what is happening around us, we see surges in behaviour change. Clearly driven by the pandemic, changes in attitude because of world events that are changing the way we act on social. These shifts are starting small and then snowballing until they almost become a movement (not quite, but almost).
For instance the drive for buying from brands that do good is rising. 47% off UK consumers want to see diversity in leadership and management. 29% want companies to show support for causes in their social media and 45.5% want to see businesses support local and national community initiatives.
More time, more research
Ian MacArthur from Sagittarius agency joined me on Serious Social to talk more about the report. We discussed how people have more time to use search to do deeper research. They are seeing a growth of long-tail search as audiences invest time in finding out more about who they are buying from. This is reflected in social where consumers are asking more from brands. Recommendations and advocacy is rising fast and our need to trust who we buy from is accelerating.
This is clearly not unique to the insurance industry. It is worth looking at changes to search and social in your category. It might inspire you to change direction, refine messaging or create a new more relevant campaign.
Ring true, ring clear  
There's been a buyer demand for 'clarity' from insurance buyers. Let's face it, normally most insurance policies are never read in the minutiae. However, it seems things have changed. Maybe it's because we have more time, maybe it's 'cos we're more cautious and want the detail before we buy. Either way, insurance brands who are clear with messaging, clear with policies and up-front about what you will or won't get are faring much better than those that don't.
More than that, those with clear messages, gain increased positive sentiment. Posts tend to express joy more often; and consumers are motivated to advocate and recommend.
Again this is not just a shift in insurance, it is a more global attitude. And some brands have already caught on.  Another market making the most of this right now, is the mattress industry. The new challenger brands such as Simba and Eve are clearly explaining what every layer of their mattresses are made of, its benefits in the detail and its value to the purchaser in several steps. And it's proving to be successful for the new bed in the box businesses which are rapidly rising whilst the traditional business seem not to have spotted that audience values and attitudes have changed.
So have a look at what your neighbouring market is up to. Dig a bit deeper into their audiences. You might just uncover that nugget of pure opportunity to sharpen and tighten your own marketing performance.