February 8, 2016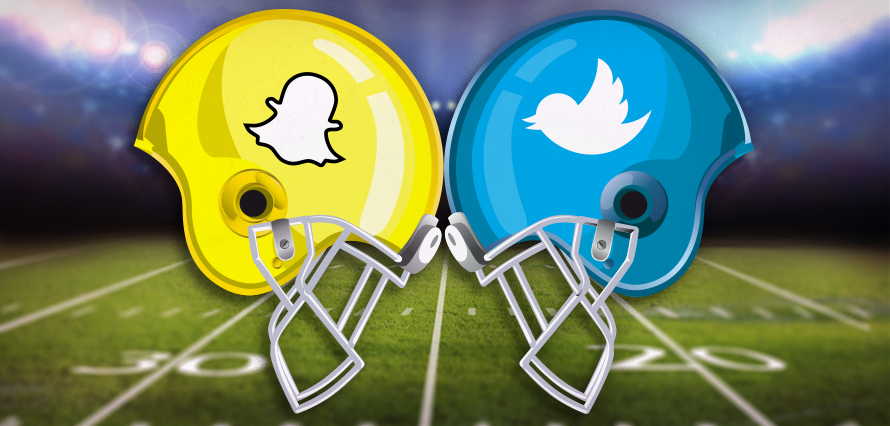 Superbowl; The Olympic games of modern marketing and definitely a leading event in competitive and cutting edge digital marketing tactics. More than with any Superbowl before, brands were positioning their narrative across multiple channels (TV, Social; Twitter Snapchat, Instagram) on an increasingly active timeline, talking to different channels and audiences in different ways but being sure of tying the activity back to the core narrative. Using big motivators like competition prizes and product exclusives alongside an employment of 'audience coaching' and influencer engagement to get audiences ready ahead of the big game and main TV slot (the Jewel in the crown of their campaign, if you will). They were less about one single channel or format focus than a fluidity of core messaging in different styles across most channels. Definitely, we think, a result of being able to monitor and listen completely with the proper use of what some refer to as the social media 'war room'.
All brands getting in on the action with SB50 being such a pivotal time for any new launch or announcement all eyes are on the first, second and third screens eager to consume and contribute in the conversation and celebration of the game and celebrate a modern american tradition of viewing spectacle.
https://twitter.com/vine/status/696453469704577025
We're not going to analyse each and every brand but out of monitoring the social activity during most of the show and seeing the build up and fallout of the #BrandBowl furore online around the TV Ads alone, we can give you an insightful overview of what we thought stood out.
So here's the final round up of the share of voice of online mentions per brand. It seems Doritos, Mountain Dew, Pokemon (Yes, Pokemon) and Heinz all took the lead, however a handful of the other brands did stand out on a combination of digital engagement and granulating aspects of their main campaign to different channels at different times.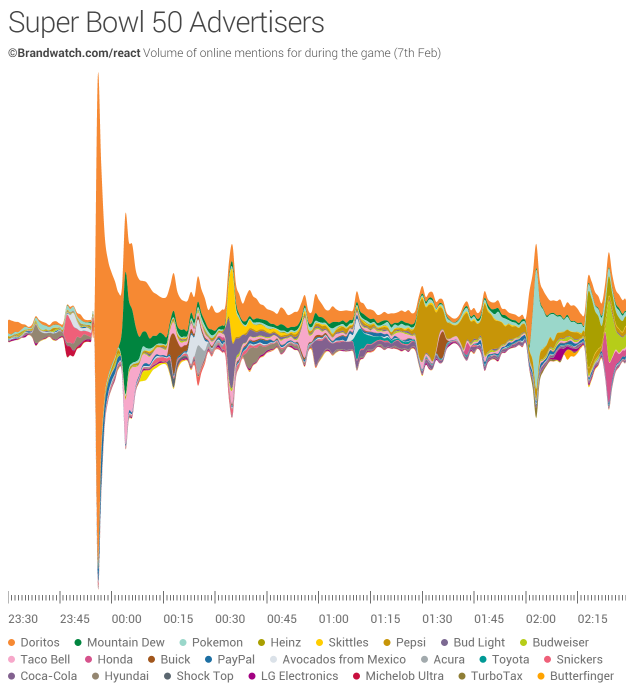 Brandwatch did there thing by monitoring brand activity across social and open web in the lead-up and during game day, giving a visually compelling data-story that showed the peaks at TV / advert slots (the spikes in data) and key moments in their social campaigning around competitions or popular post comments (the bulges and long-tails). It was clear that some of the more consistently wider channelled brands were maintaining a longer term share of voice but it wasn't totally made up by big player FMCG brands. Lesser popular 'Avocados from Mexico' were one of the underdogs clearly hard-hitting across a notably entertaining TV slot combined with a fresh mixture of native video and visually compelling content across FB, Tw, Instagram ad Vine.
https://www.youtube.com/watch?v=1ndPEQCoSzk
Doritos
Building up their social presence in several ways. Firstly they had a big competition to submit an edgy post (on any channel) for the chance to win $50k. They adopted influencers across popular social channels (Instagram snapchat Twitter YouTube) to post about the comp. The comp involved the key theme of their Super Bowl Ad so in turn they were requiring fans to think about the ad concept, urged by their influencers 'grooming' them for when the ad finally dropped during the game.
https://www.youtube.com/watch?v=ko7GuDOv4BM
I made an #ad for #Doritos, the Nacho Cheese heroes! If u make one and tweet it you could win 50k: https://t.co/rB3VGXeKxK

— Gabriel Gundacker (@gabegundacker) February 7, 2016
https://www.instagram.com/p/BBatb-PvWXL/
.@Doritos is giving away $50k to the best 3 tweets tagged #Doritos #ad. So GO! Win those stacks.https://t.co/3SuAHrXF7a

— Jay (@JayWalkr) February 7, 2016
That cloud's looking awfully BOLD. #Doritos #SB50 pic.twitter.com/jWBGMzqlcn

— Doritos (@Doritos) February 7, 2016
Doritos weren't the only channel looking to adopt influencers across channels – Taco bell launched their ' biggest snapchat story' ahead of their new Quesalupa cheese chalupa product launch. To build momentum during the build up to Superbowl ahead of the launch they gave over daily running of their snapchat channel to several bands and snapchat influencers including that of, popular Snapchatter, 'Shonduras' and allowed fans to pre-order the product days before national release. The stunt has already resulted 40,000 pre orders ahead of Superbowl and the Snapchat only campaign will directly feed into their final TV advert push during the game.
Gatorade also stepped in with their very own branded Snapchat template; costing in the region of $500k and available to all in the USA as a featured Snapchat template. It was an easy opportunity for the drinks brands to take their annual Superbowl tradition of the 'Gatorade dunking' popular celebs with their product to the merging channl in a format that everyone can get involved with (without actually getting wet of course).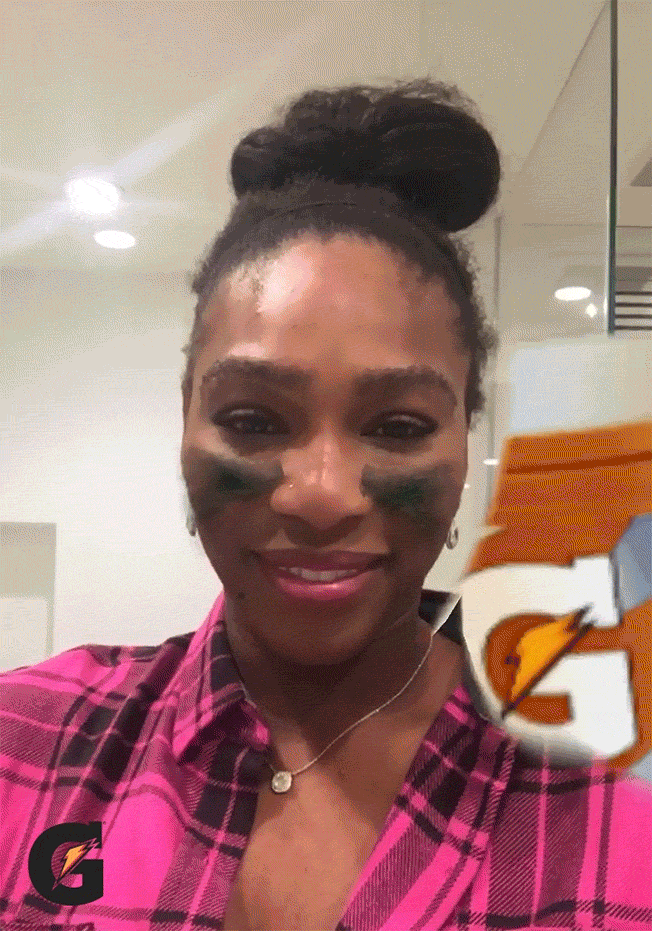 It was clear that from all the partakers in the Superbowl of American brand engagement, the winners across digital and audience anchored their messaging on the main TV ad spot, approached channel to channel engagement by tying the campaign message into more segmented forms of engagement be it through a combination of powerful and reliable methods; influencer adoption, early seeding, competition and exclusive motivators and generally strong and playful messaging. Doritos won as it seemed to add a sprinkling of shock and surprise to the mix.
All this AND Lady gaga launched her new presence on Snapchat just before her warm up for her opening 'Star Spangled Banner' delivery AND due to so many people mispelling their search for Superbowl, the trend of 'Superb Owls' began and became a new thing!