April 21, 2020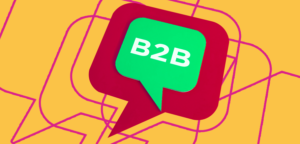 Though lockdown is in full swing, we haven't all gone mute as a result. In the B2B tech sector, conversations around AI, cybersecurity, cloud, etc. are all staying strong – but have the discussion points changed, and what can you do to adjust your messaging so you remain relevant with your customers?
We recently released our report on this topic – you can find our full analysis here – but we wanted to touch on some of the major points that are crucial, allowing you to adjust your strategy to ensure success for your brand.
What has changed?
Trade shows. Hate 'em or love 'em, they are often considered the bread and butter of B2B tech brands – and with good reason. The average trade show attendee spends 5.5 hours at a live event, affording plenty of time to introduce new products in action. The results speak for themselves. Without trade shows, it takes an average of 4.5 sales calls to close a sale. With trade shows, the number of calls reduces to 3.5. Expand that to the hundreds of thousands of calls made per year, and you can see why these shows are so important to getting the message out.
Yet, we're on lockdown, and no shows will be happening any time soon. Tech brands have had to pivot. 48% of B2B brands are already very confident with their strategy on how to achieve success in this climate. Many are fearful things will get worse, but at the end of the day, the objectives have stayed the same – tech brands want to reach buyers, and marketers are continuing with their activity to do so.
The major pivot has been to move activity to social, replacing trade shows with digital channels to get the word out. Social intelligence data from Brandwatch reveals there have been over 1m UK conversations in social media in the last 100 days. The market is massive, and potential is high for brands to make use of the increased activity.
The social sphere
Tech customers have not changed – but their lives have. Today, many of them are at home, worried about the same things in different ways.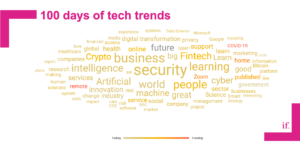 On social, we can see that security is the biggest discussion point to date, with many worried about the integrity of their systems now that everyone is connected at home. Engaging with this topic in an ethical, empathetic way will be key to putting customers at ease and providing them with the infrastructure they need to stay productive.
A quarter of buyers need more confidence to buy right now. Businesses will have to 'nudge nurture' their audiences more than ever, refine their audiences on social and stand out from the crowd – especially now that more eyes are watching you than ever before. You have the opportunity to positively influence and empower your customers, giving them the right tools they need to flourish.
To do so, you will need content. Chances are you already have the right resources in your media bank and can simply repurpose your messaging with slight tweaks. Like we said, the customers haven't changed, just their circumstances.
Lastly, don't underestimate the potential reach you now have at your fingertips. Target your audience, refine their interests until you know exactly who you are talking to – allowing you to reach the right people in a sea of discussion. Every product, industry and target audience is different. Read our full report for more information, and we have more data ready to explore for you. We can give you the insights that can help you get your marketing on point.