By if-admin | April 25, 2014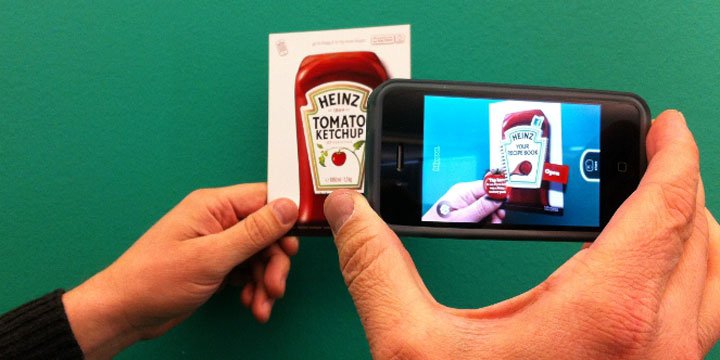 Print media is widely seen as a dying medium with the lack of targeting and personalisation seen in comparison to digital advertising. US print media has seen a spend dip from $35.8bn in 2011 to a projected $32.2bn in 2014, whereas US digital media has seen an increase of $32bn in 2011 to $47.6bn in 2014, reflecting this supposed decline of print.
Rather than embracing this, companies are now merging the line between digital and print, with the acceptance that mediums can no longer be treated in isolation. Research from Garner has found augmented reality (AR) to be one of the top ten disruptive media channels of our time, with the power to almost coerce engagement with a previously perceived static media such as print. Companies such as Blippar are embracing the use of digital and print in unison by bringing print ads to life through the interactivity of mobile applications and social sharing capabilities.
The concept of second screening (social media/mobile interaction in time with broadcast media programming) is now seeing transference into the realm of print and digital with app interaction in line with print dwell time. AR apps such as Blippar can make a Heinz ketchup bottle label an interactive recipe book on your mobile or a Maybelline advertisement a digital nail bar in the palm of your hand, both with the ability of sharing the experience across a myriad of social channels.
Blippar CEO Ambarish Mitra sums up the advantages of AR advertising perfectly in the below quote;
"Voting on magazine stories, buying from printed gift guides, watching sports content off the pages or entering a reader competition drives high conversion – and of course hugely supports the advertiser conversion on the next interactive advert in the edition."
The idea of conversion maximization put forward by Mitra is the cornerstone of proving the success of this medium. In standard print media, media buying was guided by hazy metrics such as readership figures, which may outline clearly the readership, but not necessarily the potential success of specific advertising placements. Digital metrics will most definitely be the savior in evidencing AR success with print, with an array of digital metrics and ever enhancing analysis software packages the print industry can now embrace this to secure its future. Rather than readership figures, AR digital interaction can now record highest interactivity placements down to the page and split placement success by industry, based on comparative app interactivity rates across brands.
Mitra's idea of this as a "wholesome, cross-application content experience" is core to building personalised branded moments leading to increased loyalty, salience of message and the memorableness of the experience, ultimately ending with product purchase.
What are your thoughts, are mobile and social the ironic lifesaver of print? Try Blippar out for yourself and let us know.
Image credit: Bazaar Voice