June 14, 2021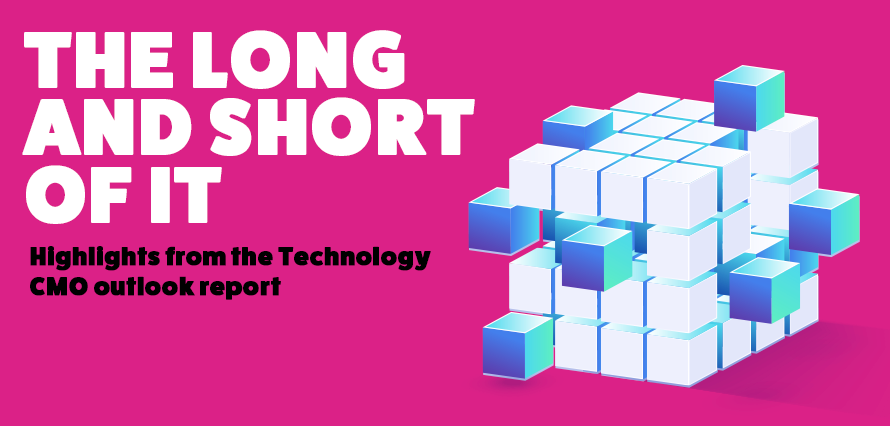 Last week saw the launch of our Technology CMO Outlook Report. Alongside Copy House, we put the flesh on the bones of the normal benchmark reports and brought to you in-depth interviews from the CMOs of some of the biggest names in tech. On Friday, we were live with Kathryn Strachan, revealing some of the nuggets of gold we found about the tactics and plans that changed in 2020 and how marketing has shifted as a result. So, let's jump right into the highlights!
Standout moments
For Copy House, 2020 saw the rise of trends such as personalised content and the importance of customer avatars. And it turns out they're not alone! Throughout the interviews within the report, the CMOs suggested the same, validating these trends. "Having that echoed back to me by some of the CMOs, some of the world's largest technology firms was really fascinating and very interesting."
These validations distilled into the important need for data and insight to bring personalisation and empathy into conversations. As well as other key standout moments such as the move to simplicity and efficient working and the desire for quality thought-leadership content within technology.
Shifting behaviours 
The past year has been one for adaptation and shifted the way we interact with not only each other but businesses as well. When the pandemic struck, businesses had to move away from their usual tactics and instead move everything online, making it difficult to cut through the noise amongst competitors.
Within the report, Adam Morgan, Executive Creative Director at Abode stated that "A lot of companies are thinking, "let's just get through this and then we'll be done". And that's not true. So much has changed, and digital presence is crucial now". Sharing content without thinking will no longer cut it, marketers need to pay attention and understand the content and pain points that will resonate with their audience in order to build a relationship. "There's a lot more work that goes into the one piece of content rather than volume and content, and that lesson has been hard to learn in the last year."
Hyper-personalisation
It comes as music to our ears to discover that there is a fundamental push to using data to discover not just the demographics, but the behaviours and psychographics, attitudes and values of customers. To build relationships and brand loyalty online, marketers have had to shift tactics over the past year, using data and one-to-one conversations to humanise brands and create resonating content. They now have a better understanding of where data fits into the marketing process and how it defines the intent and attitudes of the customers.
"We're all humans even when we're at work, there's no divide anymore between home and personal, personal and work. You can't just leave your personal life at the door and neither can your audience, so it's really important that when you're creating content is created from an empathetic view".
Serving and selling mentalities on social
Selling on social is hard, especially if businesses don't shift mentalities and nurture customers along the funnel. However, the last year has seen a shift in this behaviour. Bev Burgess from the ITSMA found "Businesses had to quickly shift to a serve, not sell mentality, as a lot of things they had intended to market suddenly weren't relevant." And we hope this approach is here to stay!
Within the tech space, new products and software can seem overwhelming so marketers need to build connections and start conversations in order to receive highly qualified leads. Kathryn Strachan used the analogy of a first date to describe the approach: "if you went on a first date and you ask somebody to marry you, they're probably going to say no. But if you take them on several dates and provide a really nice time by the good experience, they get to know you, you get to know them and then you ask them to marry you, it's much higher that they'll say yes."
But marketers need to move quickly to grab attention and inform customers amongst the noise online. A mantra we live by at IF is breaking the social boring, but the last year has proven to many marketers that creating thumb-stopping, stand-out content is needed to capture audiences and help them along their journey of discovery.
Fundamentals of marketing
From the noise on social to algorithms to changes in customer behaviour, social is often shifting sands. But when it comes to marketing, the fundamentals don't change. Evolution has accelerated and the execution may shift, but the fundamentals will forever stand. Chief Marketing Officer at IFS, Oliver Pilgerstorfer said in his interview; "I always talk about the fundamentals of marketing. I don't think it's changed. Our aim is to deliver compelling messaging at the right time, to the right people. It always has been." And thank heavens they haven't!
Now, if this has you thinking and eager to know more, you can catch the full-length Serious Social video here. Or better yet! Get your hands on the Technology CMO Outlook Report today. We have views on the Martech stack, thoughts about the changes we will keep, and the ways in which whole businesses turn and face the customer. Download your version here.