December 1, 2014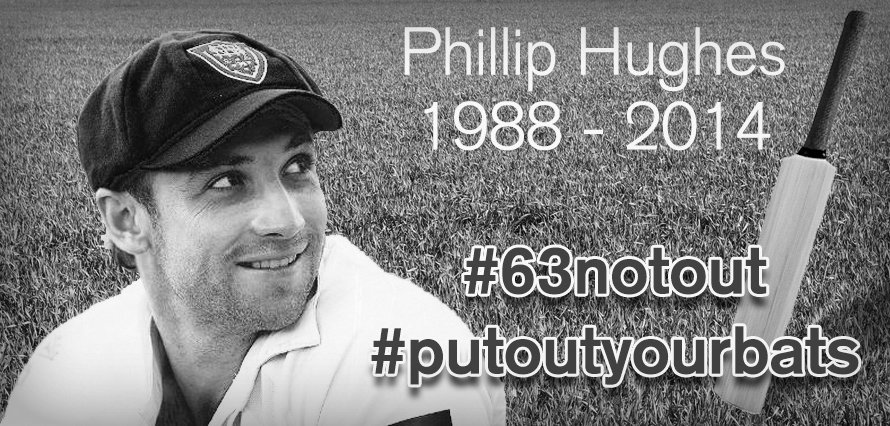 This week, Twitter came out in force to remember the tragic death of Australian cricketer Phil Hughes, with a range of poignant hashtags.
The first of the Phil Hughes hashtags was #63notout – a reference to the score he was on when he was hit on the neck by the ball. Unremarkable as the hashtag looks, it has actually changed the course of cricketing history.
Paying tribute to the life of a human being with a hashtag can seem rather crass but #63notout is a belter

— John Gibbons (@johngibbonsblog) November 27, 2014
Ordinarily in cricket, if a player is hit by a ball and has to leave the pitch due to injury, the scorecard is marked as 'Retired hurt' – but in these (hopefully) exceptional circumstances, the authorities have agreed to change his final score to 63 not out. A touching gesture, and one influenced by a massive outpouring of public emotion.
Alongside #63notout, another hashtag was trending worldwide on the same subject. #putoutyourbats encouraged people worldwide to take photos of their cricket bats and show how they are paying tribute to Phil Hughes.
This pic was sent to us a short time ago with #PutOutYourBats reaching Chicago #PhillipHughes408 #63notout pic.twitter.com/TigqNsbLut

— cricket.com.au (@cricketcomau) November 29, 2014
All of this just goes to show the power of hashtags and how we should be using them – not just a form of extended SEO to make ourselves or the brands we represent more searchable on certain channels. The same point has to be made about using hashtags to make it easier to track our own successes – there has to come a point when we become a bit less selfish with how and when we use them.
Clearly there are opportunities for brands to make more of hashtags, without looking like they're just hopping on the bandwagon or using them because they think they should – as we are all aware, some of the most successful social content has been reactive, made on the back of a trending hashtag or current affairs. But hashtags should be a way of bringing related content together, whether it is live tweeting from a conference, or sharing memorable content such as those above.
And on a personal note, I hope the times of putting hashtags in tweets as an aside just to make a point are behind us. When was the last time you used your tracking tools to search for a #spoileralert or #selfie with #nofilter?
No, I can't remember either. #justsayin