June 13, 2023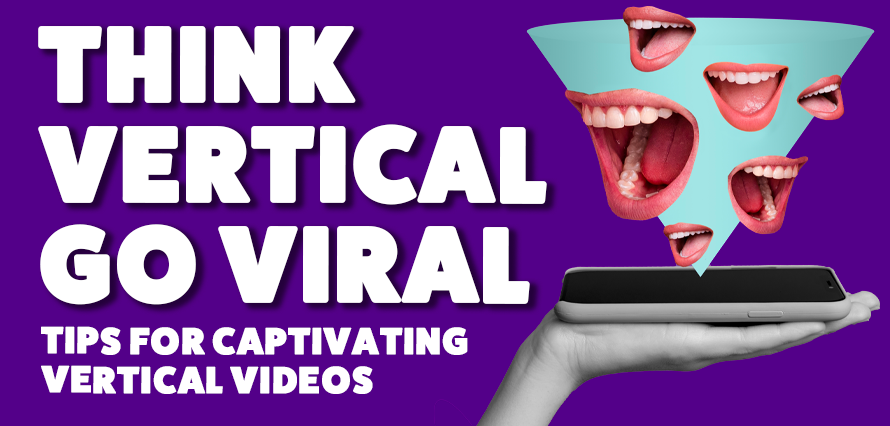 We're diving head-first into the world of vertical videos, the viral sensation that's reshaping the social media landscape, and we're not gatekeeping our best tips for creating jaw-dropping, thumb-stopping content that will have your followers begging for more.
So, buckle up and hit record with the following tips! 👇🏻
What are vertical videos?
Vertical videos refer to videos that are filmed or presented in a vertical orientation, with a taller height than width. They take advantage of the natural way we hold and interact with our mobile devices. As a result, these videos seamlessly fit within the vertical limit of smartphone screens, providing an immersive viewing experience.
Why have vertical videos become such a sensation?
As mobile devices have become a constant, everyday use, we predominantly hold them upright, making vertical videos a more intuitive and user-friendly choice. Instagram, TikTok, and Snapchat have recognised this shift in user behaviour, and have embraced vertical videos within their platform.
Why your brand should focus on vertical videos for Social Media?
Staying ahead of the curve is essential for brands looking to captivate their target audience.
Instagram Stories, and Reels, as well as TikTok and Snapchat, have embraced vertical videos as a central pillar of their content offerings. By aligning your brand's video strategy with these platforms' native features and preferences, you can leverage their algorithm and visibility to maximize your organic reach and engagement.
Tips for using vertical video on Social Media
High production quality is NOT necessary – vertical videos are designed to fit the native format of various social media platforms, the only people who really care about the nitty-gritty of production value are the people making the videos on your team — not the customers you're putting your videos in front of. Don't be afraid to get started!
Capturing attention within the first few seconds of a video is crucial on social media platforms, where users often have short attention spans and scroll quickly through their feeds.
Treat each channel as unique! Video formatting, social copy, and hashtags should be approached as unique pieces of content.
Use the right tools:

For Apple users, iMovie is already installed on your device, it's an easy-to-use tool for editing your videos to get the right dimensions and more.
Other Free Editing Tools: in addition to iMovie, there are numerous free video editing tools available for download. Examples are Splice and CapCut. These apps offer various editing functionalities and are super easy to use! Check out this TikTok tutorial by Stevenwommack 👇🏻