By if-admin | October 9, 2018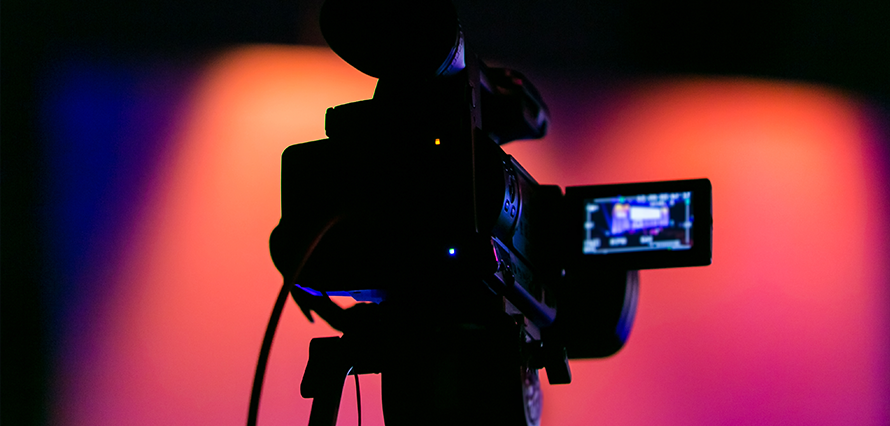 It's exactly 28 days until I hear our Producer and Director speak into my earpiece, issuing the famed cue I so love hearing: "And we're live in 3, 2, 1". The production lights will be illuminating our on-location set, and I'll see the red lights appear on our Blackmagic Studio and Blackmagic URSA Broadcast cameras. We're live, broadcasting an international event simultaneously to Facebook, Twitter, YouTube and a dedicated website. Now, all that needs to happen is faultless delivery of our scripts, links, on screen graphics, pacing, cuts to keynote and interviews. Oh, and it would be marvellous if all the equipment will stay on point for the duration of our two and a half days of live broadcasting. Simple. Except, it isn't, is it? Far from it.
That's part of the excitement of live broadcasting. The thrill and challenge of collecting impactful and engaging content in unusual locations is why people love broadcasting. Others hate it. Marmite. I'm definitely from the love camp. I'm a problem-solver at heart who rises to challenges. There are few challenges more daunting, testing and rewarding as executing a multiple day live broadcast on location. As any Producer or Director will tell you, success lies within your planning. To leave no stone unturned is an idiom we embrace. Obviously were we to endure the unthinkable and a storm were to hit Munich on the 6th, 7th and 8th November, knocking out the power and communications then it's fair to say that would be moderately inconvenient. Let's hope that this doesn't happen. Jokes aside, there is a short list of circumstances that you really can't do anything about. Fortunately, these are rare. I do hope I've not just tempted fate.
Fujitsu Forum is one of the biggest IT events of its kind. Last year more than 12,500 attendees travelled from over 80 countries. Fujitsu Forum Munich 2018 provides an opportunity for business and IT leaders from around the world to join subject matter experts from Fujitsu, and their partners, to discuss how innovative digital solutions can benefit both business and society.
This year, the event is being broadcast via social and online. It's Fujitsu's mission to allow as many business and IT leaders as possible to interact with events at Fujitsu Forum. The two-day long broadcast will feature:
keynotes from global thought leaders
interviews with business and technology experts, discussing how business and society address and solve key challenges
discussions with vertical subject matter experts
coverage of the latest digital solutions being demonstrated at Fujitsu Forum
From the comfort of your office, you'll be able to join 12,500 people from across the world, coming together to experience the transformational outcomes of digital technology.
To deliver a live broadcast of this scale and importance takes endless planning. It started many months ago. The final 28 days become an organised chaos as we live our idiom (to leave no stone unturned).
Equipment
It's rather obvious, but as wonderful as technology is, it does break. You'll need primary, and reserve equipment. This year we'll have five cameras, a broadcast live production switcher, wireless audio, production lighting, hundreds of meters of Fibre and SDi cabling, over 50 batteries, endless SD cards and storage devices, iMacs and intercoms. In fact, we'll be shipping 10 flight cases to Germany.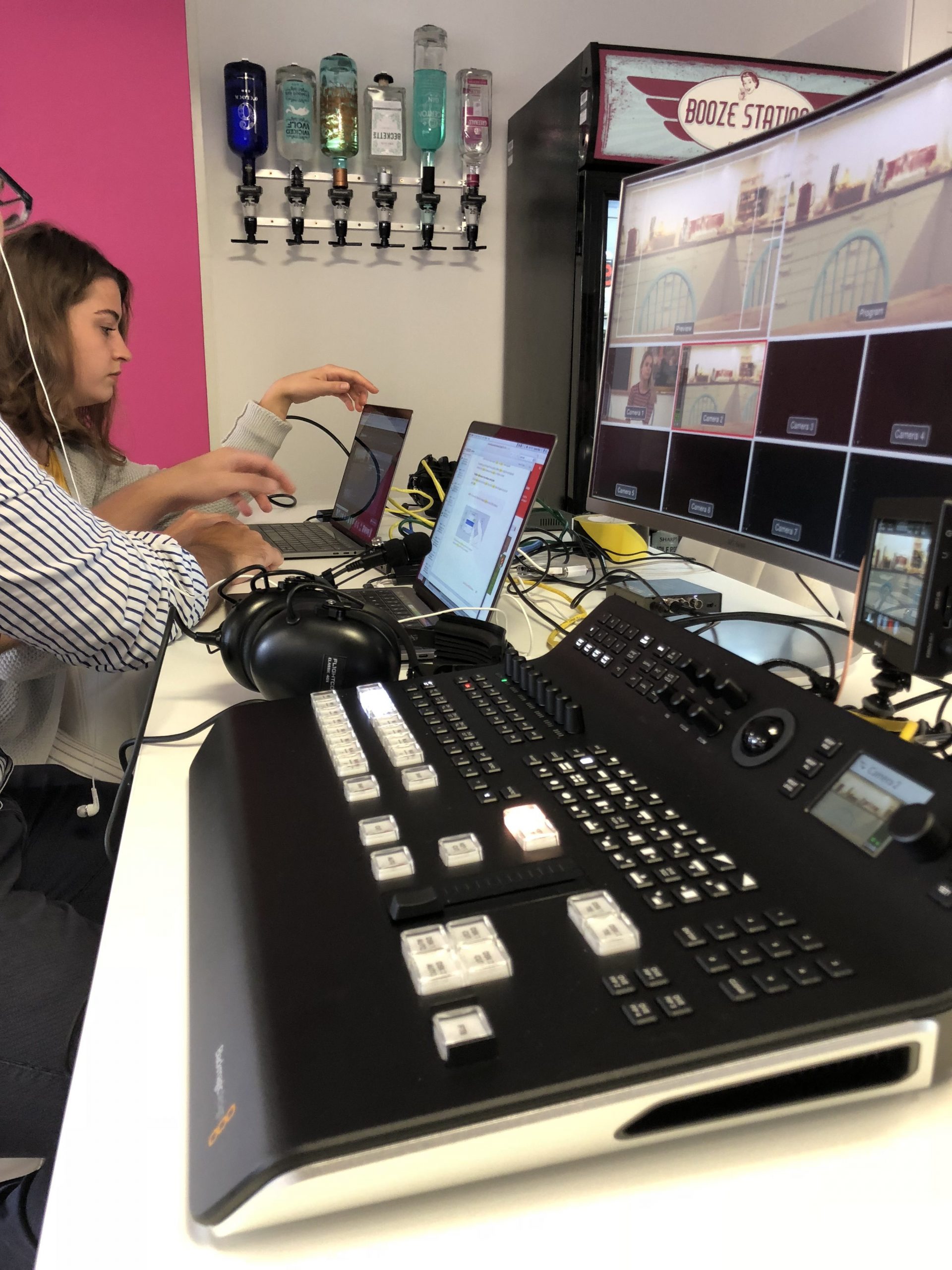 Production team
There will be 9 of us at the event – which is actually a lean team. I have the dual role of Project Director and Presenter. I'm then supported by a super talented team comprising a Director and Vision Mixer, Sound Engineer, 2 Producers, 3 Camera operators and a runner. It will surprise you to hear that only two of these roles are freelance support. Like any production team we use a long list of known experts. The Live Director and Vision Mixer is one role we always draw on experts for. Thankfully, due to our extensive broadcast experience, we know a lot of the freelance production team at ITV, Sky and BBC. It's always comforting knowing your production team were covering Premiership games for Sky Sports last weekend (even if it were the Man City match – sorry City fans!).
Logistics
It goes without saying that this is your biggest headache. Despite having seen the venue many times and being in daily dialogue over the finer points of network requirements, until you get boots on the ground, you're never truly comfortable. Some aspects of logistics are quite simple: getting people from the UK to Germany and homing everyone for a week is simple enough. Shipping of equipment needs special attention. You need to be working with tried and tested partners. Imagine if a flight case was flown to the wrong destination or held up in customs. Having partners who can get your equipment to location is critically important. For the broadcast you'll either need a Satellite Van with an uplink point (and a down link point elsewhere) or you need to create a Private VLAN with synchronised 100MB/s upload and download. DO NOT use WIFI and DO NOT use a contested network. Have you ever seen pixelated images of live streaming? That's what happens over a congested Wi-Fi network – no one will see your pictures.
Graphics
On screen graphics are key to adding dimensionality to your broadcast. From the lower thirds (name and title) of interviewees, to idents, sponsor messages and agenda call outs. It all has to be designed ahead of time and loaded into the live switcher. This aspect alone means you have to have your broadcast schedule locked down (to the minute), months in advance. Anyone who has run events knows how challenging it can be finalising a keynote schedule. Imagine having to confirm this 6-weeks out.
Scripts, Shot lists and sequencing
The blog would become a thesis if I were to go into detail. The one aspect I want to call out is scripting. If you've ever made a short-form video then you know how challenging it is to keep people's attention for 5-minutes. Imagine having to hold attention for two days. There are some rules to live by:
Narrative cannot be a unilateral opinion shared by everyone – it's boring and no one will watch this.
Scripts must feature contrasting opinions: debate a topic, prove or disprove your thesis!
Controversy is your video friend!
Don't shy away from tough questions. Embrace them. Have an opinion.
Rehearsals
The live broadcast should never be the first, or second time you've run through your scripts. Break your broadcast down into segments and rehearse them time and time again. Rehearse equipment set-up and breakdown; rehearse links; rehearse cuts and edits.
It's cliched, but teamwork makes the dreamwork. I'm fortunate to have had my production team together for a few years now. We're a well-oiled team. People will probably leave us and be replaced, others will join the production team. When that happens, working together to foster a tight, cohesive and trusted relationship is key.
Here's to another 28 days of chaos, followed by a broadcast success. Perhaps you'll join us for #FujitsuForum and behind-the-scenes coverage across immediate future's social handles and #SeriousSocial.