November 26, 2020
As it's less than a month until Christmas, it only seems right to write a festive-inspired blog and get everyone in the holiday spirit
This week, TikTok launched a holiday playbook for small businesses, to help with marketing plans ahead of this year's holiday season. Although the platform's been around for a few years, this year they released TikTok for business, and we've seen a surge of users on the app and quite a few brands transitioning too. But, like any new platform, it takes some time to truly understand how everything works; what ads to run, who your audience is and what kind of content to post and promote.
The pandemic has impacted everyone this year, especially small businesses. And off the back of that impact, we've seen a shift in consumer shopping behaviours, with more and more people supporting small businesses. At the beginning of November, we saw Facebook launch a new support program to help small businesses during the holiday period, so this TikTok holiday playbook comes as no surprise. But as marketers exploring this new app ourselves, we welcome this holiday guide with open arms.
"As you gear up for the holiday season, consider using this platform to connect with the 75% of consumers planning to support small businesses this year. TikTok Ads Manager makes it simple to get started—but to take it one step further, we rounded up everything you need to know. Consider this your TikTok for Small Businesses one-stop shop." TikTok, 2020
The guide covers a vast range of key opportunities, tips and templates, as well as a few example case studies for inspiration.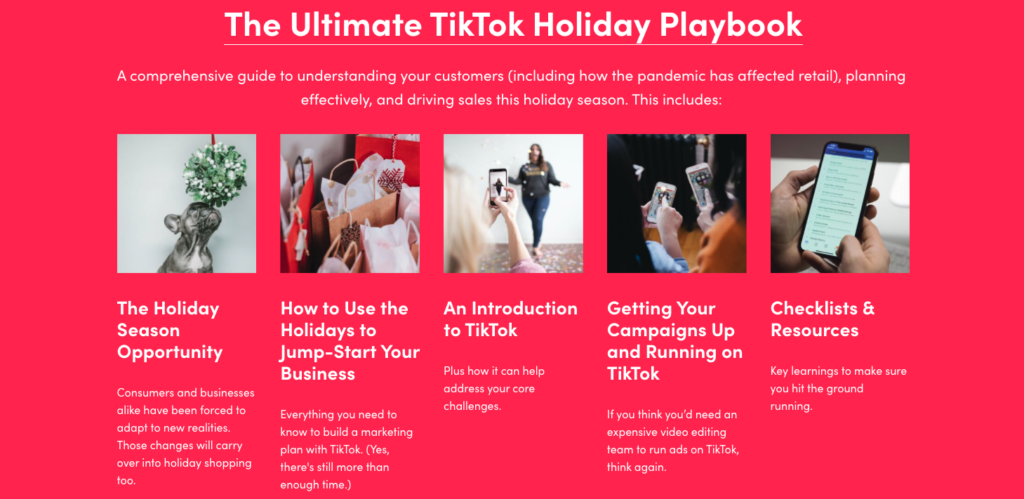 Compared to other platform's guides, this one is definitely more informative with extensive tables on different approaches TikTok recommends including objectives, creatives and starting bids. As well as a boat-load of insight to shopping and audience behaviours.
We've been inspired by TikTok this year and it's a topic we've covered on several occasions. If you're interested in our views or even after some tips and tricks that go beyond this holiday guide, then check out some of our blogs & serious socials  – or even better, get in touch!