November 13, 2023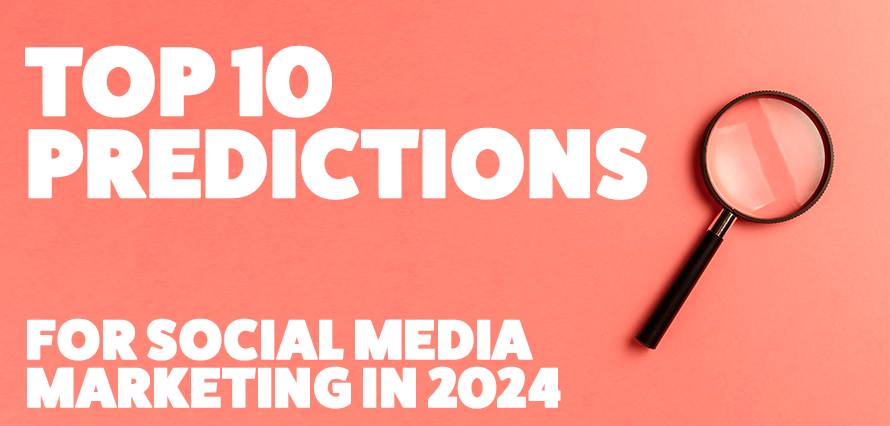 It's time to dust off those crystal balls and take a sneak peek into the future of social media marketing. Get ready to discover how AI, engaging content, and innovative features will play a pivotal role in your social media next year. Whether you're a seasoned pro or just dipping your toes into the world of hashtags and filters, this list will help you stay in the loop. Let's get started!
1. Facebook's AI Revolution
Expect Facebook to continue its AI-driven transformation. The social media giant will increasingly leverage AI tools and recommendations to align itself with rising engagement trends. With more Reels clips inserted into user feeds, Facebook aims to reverse its flagging engagement by offering more entertaining and engaging content to users.
2. Meta's Shift Towards Broader Recommendations
Meta, Facebook's parent company, is following in the footsteps of TikTok by offering recommendations based on a broader range of content. This shift away from limiting user feeds to Pages and followed accounts is expected to increase user engagement.
3. Instagram's AI Enhancements
Instagram, a platform under Meta, is set to incorporate even more AI-based recommendations into its main feed. With AI stickers, image editing tools, and avatars, Instagram will continue to dominate user feeds, offering marketers new avenues for engagement and content creation.
4. Threads' Rise as a Competitor
Threads, an Instagram feature, is gaining momentum and is poised to become a legitimate competitor for X's audience. This trend reflects a broader shift in social platforms from a social focus to more engaging content.
5. LinkedIn's Deep Dive into Generative AI
LinkedIn is embracing generative AI to improve content matching and discovery. The platform will use its vast professional database to offer more personalised experiences and enhance engagement, especially in the growing video content ecosystem.
6. LinkedIn Verification and Trust Enhancement
LinkedIn will focus on trust by allowing users to confirm their government IDs, enhancing the trustworthiness of listings and in-app engagement.
7. LinkedIn Creator Rewards Linked to Career Incentives
LinkedIn plans to better connect its creator rewards to career incentives, encouraging users to showcase their expertise. This strategy aims to create valuable in-app incentives for both users and the platform.
8. TikTok's In-App Shopping Expansion
TikTok is poised to reshape user behaviours with in-app shopping. The platform will focus on incorporating food delivery and local business listings into its "Nearby" content feed, creating new opportunities for marketers.
9. TikTok's Embrace of Generative AI
TikTok's adoption of generative AI, including text-to-video tools and AI chatbots, will set it apart from its competitors and make it a more valuable addition to the app.
10. Digital Avatars on TikTok
TikTok is expected to implement new rules requiring real-name authentication for digital avatars. This move could lead to a rise in the use of digital characters and robots on the platform, introducing a new element for marketers to explore.
As we get ready to step into a new year, it's clear that social media marketing is brimming with fresh opportunities and trends. With AI, engaging content, and innovative features leading the way, it's time to get creative and embrace boldness. Let's make 2024 a year of social media marketing success. It's going to be a fun and rewarding journey, and we can't wait to see your campaigns shine.
Here's to another year filled with likes, shares, and meaningful connections! Need help? Contact us to have a quick chat.