August 9, 2021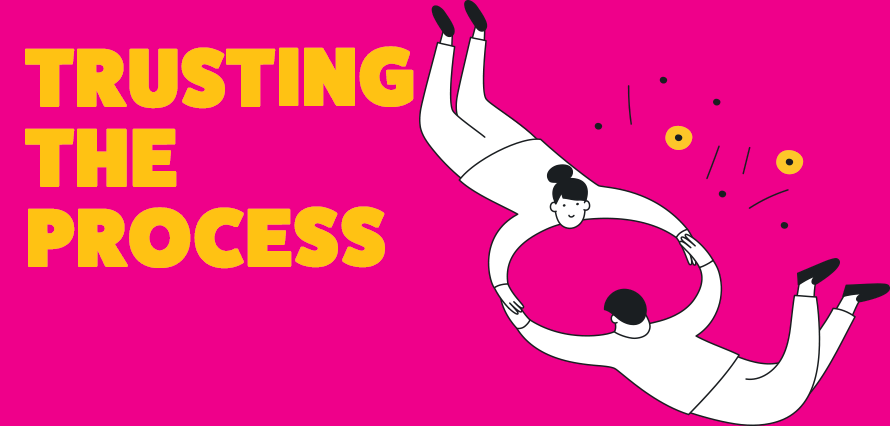 Designers know more about 'trusting the process' than anyone else. Though what we all need to understand is, there is a process to everything that we do and without trust and patience, we can falter at the first hurdle. When it comes to 'Trusting the Process' on social media, we need to remember that there are steps to take to create a presence and a following. In our latest Serious Social Live, our design teams talk all about 'Trusting the Process' and what it means to them, design and social media.
So, let's get the biggest question out of the way… What is trusting the process, and how important is it? Trusting the process is all the steps it takes to complete a task, which can relate to everything from creating a social post to making a cup of tea. Now, trusting these steps is what we call 'trusting the process' and it's crucial when it comes to design as there are so many instances of things not looking the way that it's meant to until you complete all of the steps. So, missing or giving up at the beginning or middle is detrimental to the overall product. This is something we all do and something to not be looked down on, but we all need to have the ability to trust within ourselves and overcome this.
Another element that goes hand in hand with 'trusting the process' is a creative vision or the ability to visualise the end product so you can remain focused. This is extremely evident in the video that we have discussed in the IFBlog before, which is the behind-the-scenes video from Liam Lynch and his music video for Royal Blood.
As you can see within the video, he was able to have faith in what he was doing and was able to achieve the result from the green screen footage that he recorded. What this video also shows is the amount of time and steps that are needed to go from footage to end results, highlighting a key aspect of 'trusting the process' which is to not expect instant results. This can be one of the more challenging aspects of this, as the world that we live in is a constant beratement of instances where you can get things instantly.
This is no truer than on social media, where interactions are in real-time and can appear instantly. When it comes to social, the ability to have faith, patience, and trust in what you or others are doing is crucial to the success of tone of voice, a campaign, or even your entire presence on a platform. Instant results are rare, even to a point of non-existent as there are so many steps to take to get the desired results. And looking at something half-baked would not be a true reflection of the hard work and effort that goes into a successful social media account.
This is the hardest element to overcome when it comes to 'trusting the process' and can often be the hurdle that some cannot pass. With trust, patience, and faith in the process, you can reach the final hurdle and see the product as a final piece. Trust in what you are doing, take a step back and believe in the process.
To learn more, look out for the recording of our latest Serious Social Live hitting your social feeds soon.