November 23, 2022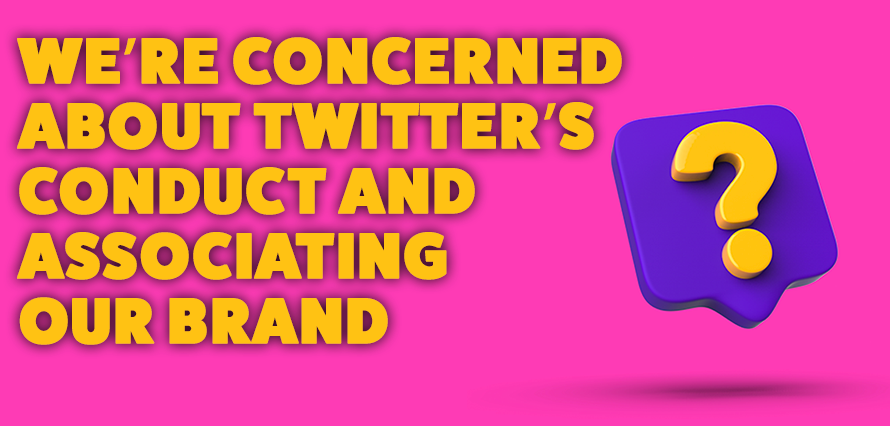 You're not alone. It's a short list of brands that are not concerned.
This Friday 25th November at 10 am GMT, immediate future is going live to bring you the very latest information to inform your internal conversations. To join our LinkedIn Live event visit: https://www.linkedin.com/video/event/urn:li:ugcPost:7000493600048308224/
It's been four turbulent weeks since Elon Musk entered Twitter headquarters as owner with this post:
It was the first of what was to be a series of bizarre tweets. Few could have imagined the seismic change Musk was to bring about. Just days away from Thanksgiving, Musk dispensed with gratitude, opting for ruthlessness to enact change.
A quick scroll through Twitter's historic timeline or media and you'll see a portrayal of an inclusive, diverse, and equal employer. An environment that was regarded as a wonderful place to work, striving to emulate the goals and vision of its founding father, Jack Dorsey.
A 7,500-strong workforce was, on the face of it, happy and proud of working at Twitter. $44 billion was spent transferring ownership to Musk. Abrupt tweets emerged with Musk claiming Twitter was losing $4 million a day. Let's take that at face value for a moment. It does raise the question as to why a businessperson would value a company losing an asserted $1.46 billion per year, as worth parting with $44 billion to acquire it.
Who am I to question Musk's business acumen? PayPal, Tesla and SpaceX are all worth far more than immediate future. Musk's credentials surpass my own.
Few, including myself, would doubt Twitter's need to balance the books. It's true, in several BBC News and BBC World News interviews discussing Twitter's Quarterly Earnings, I told presenter Aaron Hesselhurst and his viewers:
"Twitter does need to bring more products to market. They've been slow to monetise, compared to Zuckerburg's Facebook Group (now Meta), for example, they have an inferior Ad platform and Ad revenue is key to social media success. They carry high staff costs and Jack Dorsey has gone on the record saying their focus must be the customer journey, rather than monetisation for monetisation's sake. Investors are right to ask questions. I don't see a profitable quarter for Twitter on the horizon."
Changes were expected and needed. The problem? It's the way change is alleged to have taken place. Assertions of Musk disposing of employment law compliance to remove thousands of staff. Social media posts portraying acrimony amongst staff asserting their dismay at dismissals and referencing alleged emails demanding longer working hours if you wish to stay at Twitter. Assertions that some staff are forced to stay at Twitter due to Visa statuses; claims that visas cannot be transferred and if said staff were to leave, they face deportation along with their families. Colleagues, citing making moral stands for their former colleagues opted to leave, with whole teams reportedly heading for the exit doors.
It's reported Musk expected to cut 2,500 staff. Rumours are rife that as many as 5,000 have departed calling into question Twitter's ability to operate and run key services such as copyright governance.
Conjecture is rife. Disharmony is prevalent. Assertions of wrongdoing impacting employees and conduct in the workplace. Assertions of a workforce no longer embracing equality and inclusivity. Published photos portraying significantly fewer women in the workplace. People, previously banned from Twitter for hate speech or inciting violence has reportedly been invited back. Twitter appears to be in turmoil.
So, what do we know?
We know Twitter has received a lawsuit relating to the removal of US staff. Breaching compliance with the Californian WARN Act, a policy requiring 60 days' notice of widespread redundancy. We know UK staff have been dismissed without the required period of consultation if more than 20 staff are being made redundant. We expect to see ensuing lawsuits or Tribunals across many European countries.
We know that previously banned users have been welcomed back to the platform.
We know hate speech has increased.
We know major brands have paused Ad spending on Twitter, moving spending to other platforms.
We know every brand engaging with Twitter has questions and concerns. Questions such as:
Should we be spending on a platform that has potentially broken laws to illegally remove thousands of staff?
Should we be aligning with a brand that does not currently have a public plan to identify, remove and ban hate speech?
Should we be aligning with a brand that, under a veil of 'freedom of speech' is welcoming back people alleged to have peddled inciteful hate speech or posts eliciting violence?
These are all valid and key questions. These are questions you do not need to answer today. Currently, our recommendation is to pause spending on Twitter. For time-sensitive seasonal campaigns do move spending to other platforms. Take a pause to evaluate the assertions and unfolding action. Be informed and act based on facts. Some brands rushed to publish public announcements of Twitter withdrawals only to post subsequent climb-downs. You do not need to force internal decisions with such statements.
We hope, come Friday to have more actionable information for you, allowing you to advance conversations allowing decisions that are right for your brand.
This week, Thanksgiving week, we should be advocating gratitude and appreciation. For many former Twitter employees, their week is likely to be rife with worry and concern. Being removed from employment amidst a cost-of-living crisis will be a stress no one would wish upon anyone. Can your business help with roles for the talent coming out of Twitter? Can your brand help to reduce their stresses during Thanksgiving week?
Take a pause. Give your brand time to have the right conversations and considerations, making an informed decision when the time is right. Don't rush, unless that is, you can help the unlucky thousands who face tough times.
A reminder: This Friday 25th November at 10 am GMT, immediate future is going live to bring you the very latest information to inform your internal conversations. To join our LinkedIn Live event visit: https://www.linkedin.com/video/event/urn:li:ugcPost:7000493600048308224/