January 8, 2014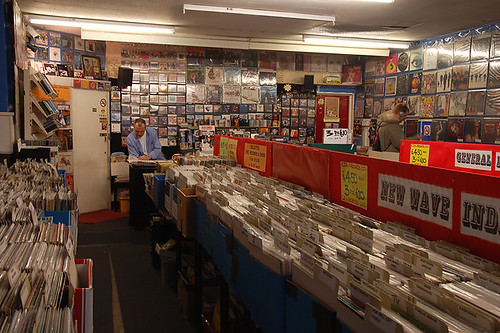 If, like most, you are struggling to find new music and can't bring yourself to thumb through endless blogs, magazines, buy redundant CDs, download or 'torrent' illegally or can't even fathom what those big black discs Dad used to play are called, then you may want to try out some of the more amazing platforms for discovering not just new music but the right kind of music for you and similar fans.
We are in the midst of some of the best socially geared music networks we have ever had the pleasure to listen to and, more than ever, music fans are connecting across the globe to exchange thoughts and links with not just other likened fans but the artists themselves.
On some of the more popular platforms users can now share links, exchange playlists and discover endless lists of customised suggestions based on listening habits and simple interactivity.
Here are some of the more socially integrated music apps and platforms available (usually for free or at a simple premium rate) at the moment. Speaking of the moment, lets start right there.
Moment.us – A new UK  (Manchester based  ["you're twisting my melon man"]) app that takes your interactivity data and curates the 'perfect music' for you at any given time or place according to the feedback of a vast user network. A strong focus is put on sharing moments within and across external platforms i.e. 'This song reminds me of that time when…'
Spotify – One of the most integrated music apps around and one at the heart of forever perpetuating musician royalty scandal (but that's another story). Exclusively specialising in music discovery based on the network's activity and your own listening habits. Users can create endless playlists, share them with friends they 'follow', discover new artists and friends to follow too. Spotify combines a high quality streaming service with a vast (though sometimes changing) catalogue of new and (impressively) old music, connected apps, genre radio, chart lists, foreign language, spoken word AND live shows. Premium users have access to the slick mobile app that allows users to save playlists for when disconnected for streaming and sharing.
Soundcloud – A platform designed especially for unique content creators by and for music producers and musicians themselves. Users can upload their own content or curate playlists of others uploaded tracks. Follow, comment on linear track timelines and even, more recently, connect their Instagram accounts to apply photos as artwork for their own content or playlists. Expect DJ mixes, remixes and 'hot off the press' exclusive music from both well known and underground artists galore. The mobile app is also quite awesome.
Tastebuds – A great new platform focused on meeting like minded music fans (and possibly go to gigs with them or even date them!). Tastebuds connects with your Last.fm listening history (scrobbles), allows you to select your top 30 or more musicians and bands, fill in your basics and matches you with those of similar taste, age, location and even those going to the same gigs in your area! Connecting you with gig buddies and potential music dates, shifting the focus from singles' qualities to more of a 'Jazz (insert preferred genre) Romance'.
Songkick – A great London sprung platform based on monitoring up and coming gigs of your 'followed' musicians and performances of similar recommended musicians. Users can click to attend, buy tickets, invite friends, share the events with Facebook connections and reach out to others attending the gig before it happens. Making friends and new music discoveries on the way!
Mixlr – More of a radio and live-audio-streaming platform. Mixlr hosts 1000's of live channels of music categorised into genres and at any given time has 1000's of live streams, performances and radio shows available to hear across the world. Users can interact with each stream 'crowd' directly on the show page with options to comment and offer simple likes in the form of 'hearts' to show appreciation for each show. Mixlr has been vastly popular with home DJs live-streaming their shows via an awesome mobile app but the diversity doesn't stop there. There are channels known to be used by schools for live-streaming their daily assembly for parents to hear and for high detailed football commentary for  blind footie fans via the app!
Soundtracking – Basically the Foursquare for music. Users can discover the music people are listening to in their area, geotag their location with songs and even use a listening function (similar to that of Shazam) for recognising music and tagging it to 'a place'. EG: "Heard this playing in my local cafe, totally awesome song" – Users can also tag songs with other Soundtracking users and share out to Twitter, Facebook and it even has an image tagging function that uses your Instagram photos. Applying an image of the music thumbnail out to your Instagram followers. Pretty clever, eh?
Bloom.fm – OK, so a 'not so social' platform but definitely one of the best newcomers in music apps and a UK company too that practices a more musician friendly way of 'borrowing' music with an amazing interface design. Bloom.fm lets you download tracks as you select them to listen to and return the tracks when you're done. Meaning the artist maintains a royalty fee much the same way as on FM radio i.e. per play.
Whatever music you're into, there's definitely something out there for keen socialites who enjoy swapping, discovering or discussing the latest or the rarest in musical gems. Some of the best music platforms now serve as venues for the social discussion music that less frequently have a place on the fading record shop floor.
© Kamshots. "Inside Avid Records" Photo. Attribution 2.0 Generic.