July 13, 2021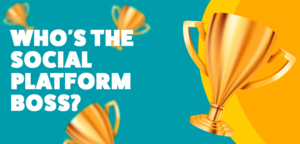 With just two exceptions, TikTok has held the lead as the most downloaded app for the past 18 months. Its growth has been meteoric and undeterred despite content concerns, data safety issues and other fun controversies. The other important aspect to note is that these downloads are likely from primarily new users, as TikTok is still a young platform (I know, it already feels like it's always been here). So, at what point to do we look at TikTok and say, you're the top dog now? Do we ever?
The audience
Well, not for a while at least, if monthly active user figures have anything to say about it. Yes, TikTok has been growing at an incredible rate, but it's still leagues behind Facebook, YouTube, Whatsapp and Instagram. Take a look at the chart below to see how far TikTok still has to go to catch up in terms of sheer audience size:
Monthly active users:
Facebook: 2.7 billion
YouTube: 2 billion
Whatsapp: 2 billion
Instagram: 1.16 billion
TikTok: 689 million
Snapchat: 433 million
Reddit 430 million
Pinterest: 416 million
Twitter: 353 million
LinkedIn: 310 million
Company not platform
There's also the awkward bit where we have to look at who owns what on social media. The top five most downloaded apps per month in June were:
TikTok
Facebook
Instagram
Whatsapp
Messenger
Besides TikTok, the next four are owned by none other than Facebook, making it hard to argue that TikTok is in the lead against the entire Zuckerberg empire. We also have to take into account that Facebook is trying its best to make its many social platforms fill the niches that TikTok has so easily stepped in. Instagram head Adam Mosseri pretty much came out and said it on July 2nd – stating on Twitter that Instagram would be focusing on creators, videos, shopping and messaging. The company will be focusing more on videos to move past its long-running image that it's a photo-sharing platform. 
So, for now, Facebook is still on top, but that could all change if the company does not manage to fill the roles TikTok is so easily filling, and if TikTok continues on this trajectory, it might just be a few short years before the top slot on social becomes the only slot. Time will tell.