February 13, 2023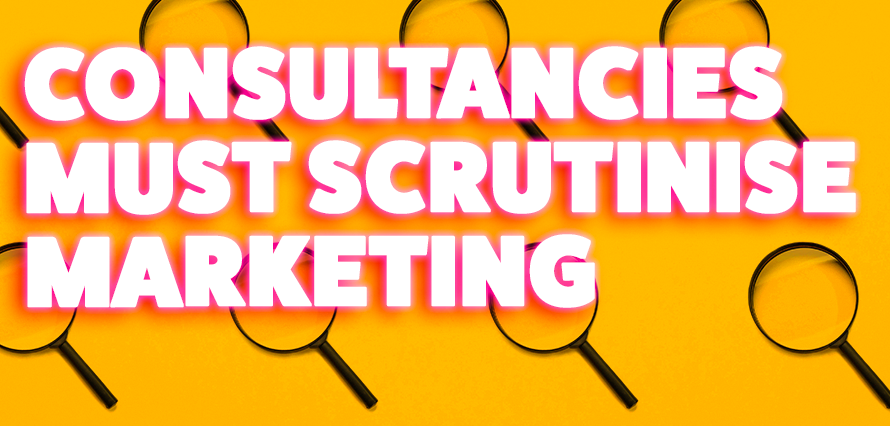 Investors have always had a sharp eye on their holdings, but the challenge of the current financial landscape coupled with a drop-off in performance is forcing a closer look at marketing strategies.

And they're right to do so. Having worked in several consultancies, including working on KPMG's biggest-ever turnaround proposition in the UK, there is a common trend – consultancies stick with the tried and tested marketing plans.

Plans that were cultivated long ago. Once fit for purpose, now dated, and failing within a post-Covid, post-Brexit and high-inflation marketplace. Brands become almost blind, believing their dated and yesteryear strategy is still differentiating themselves from competitors, showcasing their expertise and knowledge, and ultimately, establishing themselves as trusted advisors in their respective fields. Spoiler alert, they're no longer doing this.

I joined the multi-billion-pound turnaround I mentioned in year two and was surprised at the 'cookie cutter approach' taken with marketing. We subsequently enforced a bold reset, building strategies and executions that were fit for that day, not airdropped from years past. Fast-forward another 18 months and the turnaround was successful, the asset-rich, cash-poor brand sold and was back in private ownership. The organisation still thrives today.

Technologies change, and human behaviours evolve. Marketing will fall short if businesses do not tap into bespoke strategies built for today's market challenges and current buyers' behaviours.

Two weeks ago The Sunday Times's Danny Fortson published an article detailing Salesforce's soured growth, asserting "profits have plunged, shares have halved in value since 2021, and executives fled."

Even the titan of industry that is Benioff is having to rethink strategies. In Salesforce's case, this could be enforced, with the same article claiming investment firm, Elliot Management, "is to propose a slate for a new board of directors for election at the June shareholder meeting"

My point: no business is immune from having to review strategies, ensuring they're fit for purpose for today's market. I strongly believe this because:

• Data over gut: few businesses use data to confirm where buyers dwell
• Social Media missed opportunity: MQL and SQL success can come from social media in abundance, if (and it's a rather big if!) you have a strategy shaped for social. Too many businesses, including investors, see it as an afterthought, rather than the critical channel it is, in a post-Covid world
• Not working with the algorithms: Brands, who are not working with a LinkedIn, Partner, will be unaware of the touchpoints needed prior to asking for a demand-generation form-fill. Those brands continue to do the digital equivalent of 'knocking door to door'
• Lacking channel-first content: content needs to be cultivated for the channel it's to be deployed in. A glossy back and white picture coupled with long boring copy, do not make for impactful social content
• Modern thought leadership must be companywide: few brands truly showcase the individual and collective brilliance of their workforce. To be clear, this is not a chest-beating 'salesy' content pillar. Instead, it's a proven model to evidence the business and/or societal impact your teams and the company delivers. Psychology is key to building this content pillar

Now for the positives: brands (particularly technology companies and consultancies) who work with us to create a genuine social-first strategy will deliver demand-gen results. However, bold rethinks are needed. Sharp step-changes will be required in how you approach marketing, creating bold content in greater volume. Strategic smarts and data insights built around human psychology will be at the forefront of your strategy. You'll be asked to commit with consistency and to trust the process.

Do this, creating a social-first strategy that is fit for purpose in today's market, and future demand-gen success will follow.

It all sounds rather simple, doesn't it? It's not. It's a lot of work, but in today's market, it is also critically important work.