Insight and advice for travel brands wanting to up the game on social
Planning your social media activity for 2020? Then don't do it without first reading this report: Packed with unmissable insights into social conversations and search behaviours around holidays.
With over 70 million posts on travel there is a lot of data to examine. This report goes into detail on some of the more interesting findings, but we know you might not have time to read it all right now, so here are the highlights.
All change channels
The social channels have moved on since last year's report. Insta was all destinations back then. But now it's trending towards genuine and less posed visuals. People are sharing more detail from holidays and the pictures look more real than they have in the past.
Twitter still flashes alive in moments, but it is much more emotional when it comes to holidays than it has ever been. But what is most interesting is the cross pollination of content across channels. People are signposting their Insta's on Twitter and their tweets on Insta. Our social portfolios are beginning to be a series of interconnecting networks!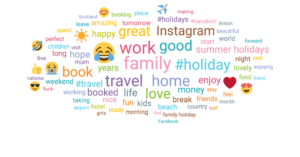 Keeping networks close
Consumers are increasingly taking conversations out of public into private conversations. 43% of dark social users (those using messenger for instance) have shared travel content. Aligned with the rise of dark social, is a return to forums for discussion. Given 19% of UK holiday makers are swayed by other people's opinions, these close networks are having greater impact on purchase decisions.
Family and friends
Unsurprisingly the move to private conversations, sees an increase in mentions of Friends and Family. 41% of posts that mention family use happy words and 36% talk about taking pictures. Friends mention love more (40%) revealing our interest in being close to people we know is being shared in social too. Part of the purchase trigger will be how the holiday fits with our desire to include family and friends into our vacations.
Silent solos
Given the volume of conversation on holidays it is a surprise that there are some topics we do not want to discuss. Solo holidays is one. Barely making 0.2% of any holiday post, it seems it is a holiday type that is bucking the real world trend and being shy when it comes to the social chatter. As we know, solo holiday bookings are on the rise!
Japan leads the way
Looking at the ABTA top destinations this year, it seems Japan sweeps the floor in terms of social conversations (and that is even after removing mentions of rugby or the Olympics). Consumers are inspired by the Japanese destination! They also talked a lot about Spain, Turkey and Greece.
These are just the highlights from this report. Oh there is so much more from where consumers are in the purchase journey when they tweet, to which days of the week we talk holidays and which days we don't. Download to get all the juicy details:
The way the channels are used has changed. Twitter gets all emotional and its genuine pics that are better appreciated on Instagram
How you will need to manage dark social – with 43% messenger users sharing travel content
Uncover which were the most talked about destinations and why we mention family and friends often in our social posts