May 4, 2017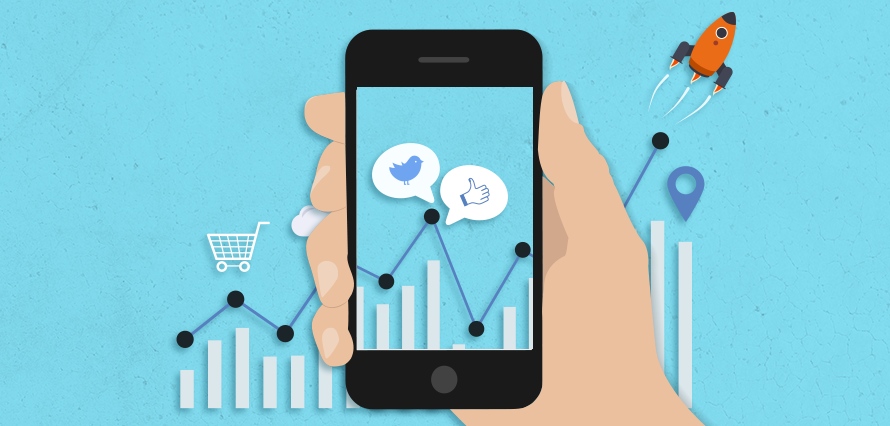 Social and mobile go together like Instagram and food porn. They are a match made in marketing heaven.
Why? Because for every waking moment, consumers seem surgically attached to their phones. And according to the latest research, when it comes to social media, 80% of folk now access social via a mobile phone. In fact, social and mobile are so well aligned, Facebook has an average of 1.15 billion mobile daily active users. Together, social and mobile, present the perfect way to get your brand in front of customers.
But it isn't just mobile that marketers need to pay attention to when planning for social. It's more specific. It's smartphones.
There are over 2 billion smartphone users globally. The numbers alone are significant enough to garner attention, but it is the way in which smartphones are used that is presents the greatest opportunity. They give your consumers access to photos, video, location tagging, connectivity and a lot of powerful access to the social networks. All of which is having an impact consumers' use of social and ultimately a brand's social marketing plans
So, how do you need to tweak, refine and change gears in your social strategies to accommodate the social smartphone enabled consumer…
Phones are so much more personal
58% of people check their phones within 30 minutes of going to sleep and 52% within 15 minutes of waking up. Our smartphones are our lives. They connect us to family and friends. They keep us entertained when we are bored and are there when we need to find somewhere to eat fast. Phones are personal, precious, devices.
Our consumers don't want spammy adverts or irrelevant messages. That is clear from the recent data showing that the rise in mobile advertising is contributing to the decline of viewability levels.
The answer is simple. If you want to reach social mobile consumers then be very personalised, targeted and relevant. The good news is you can do exactly that through all the mainstream social networks. It is just a matter if being clever with paid and segmenting your audience finely.
Pedestrian content won't cut it
Consumers might check their phones every minute and consume lots of content, but they are most often doing so whilst busy with something else. Either dual screening and watching TV (or Netflix), or commuting, or just walking and chatting.
Added to the distractions, is the volume of content. There are now over 3 billion images shares daily across Facebook, FB Messenger, WhatsApp, Instagram and Snapchat.
Your content needs to cut through the noise. You need to be creating images, copy, video, gifs and eye-catching content that is 'thumb-stopping'. Looking for ideas? Take a peek at my colleague's blog for inspiration.
Video might be a big thing, but not on mobile
The trend reports all scream about the importance of video. And they're right. It is BIG this year. For example, 48% of millennials view video solely on their mobile device.
However, in social you need to think about how big your video is. Size of file will matter if your commuting customer can barely get 3G. So be smart and cut your video to different lengths and sizes. By all means, retarget viewers on desktop to see the full-length video, but on mobile social be aware of download speeds and time to load. Keep it short, use teaser content and grab attention fast.
Consider the onward journey
Social is one part of the consumer journey. If they enjoy a post or visual they will go on to seek more information, visit your webpage or buy from your ecommerce site. For those interacting on mobile, their next step in the journey is going to also be actioned on the same device, mobile.
Yet, still many brand websites are not mobile enabled.  I know shocking isn't it. But also, very common. Google says that almost two thirds of users are unlikely to return to a site they had trouble viewing on mobile. The bottom line, when you think social mobile, think wider mobile marketing too, if you want to measure results beyond social metrics.
Location is your secret weapon
Going mobile with your content in social opens up a world of geo-targeting. From pin drops to street by street (almost), you can target audiences to very detailed locations. We've seen it work brilliantly around events, like the London Marathon; at specific venues for instance, pubs, clubs and hotels, or just selected cities.
The beauty of location-based marketing in social on mobile is that you can match behaviours with potential marketing opportunities. Your marketing can become contextual in the real world. Waiting for a bus, why not pop into the local Starbucks? Festival bound, why not buy a two for one deal on beer at the local supermarket? You get the gist. Location sends you the consumer behaviour signals that allow you to place your brand in context.
Chat, chat, chat. Sale
The rise of messenger apps like Facebook Messenger and WhatsApp are changing the mobile and social landscape further. It might be the next big thing in marketing, but it already a 'thing' for consumers.
Facebook Messenger (81 percent) and WhatsApp (61 percent) remain the most used mobile messaging apps across the US and UK. They are already becoming increasingly rich and entertaining platforms as consumers exchange pics, video and user generated content. And we are quickly seeing the rise of Chatbots.
And this offers brands the opportunity to establish connections with consumers on a whole new level. And it seems consumers are just as likely to be interested in bots: 69%of UK consumers say they choose to interact with a bot before a human. They're on mobile and they want instant answers. And already, 21% say they would purchase goods and services from a chatbot.
As marketers, you are not just creating a social strategy anymore. You're developing a mobile social strategy. One built for today's smartphone. Get it right and you will be in the palm of every consumer hand.