By if-admin | May 15, 2015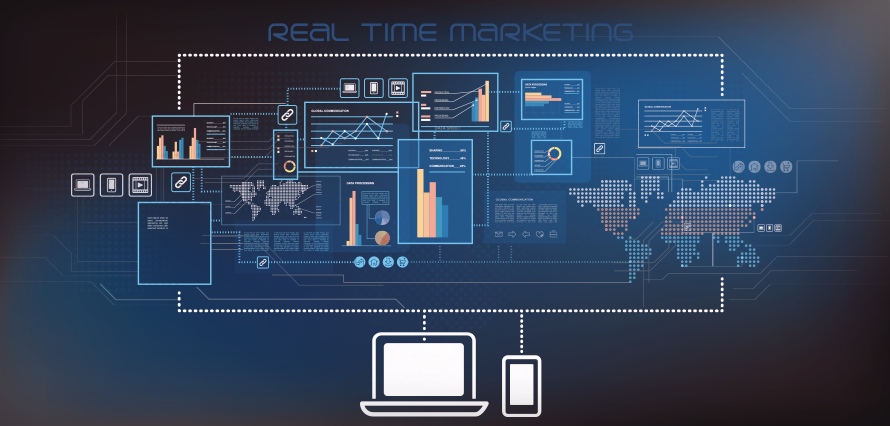 In a world where the average consumer expects a response within the hour (42%, Edison Research), and has the attention span less than that of a goldfish (8 seconds for humans, the goldfishes' is 9 seconds), constantly connected from wherever they are – the prospect of 'real-time marketing' seems like a tasty, tantalising way to engage your supercharged audience. And it is…
However, it ain't that easy! For those FMCG brands and music industry folk who have embedded 'social' at the heart of the marketing and/or digital strategies then this is now 2nd nature, the nature of the beast, they are more than comfortable with it. Largely, this means that they have adapted their marketing & wider business models to inhabit the change – they may not be perfect, still being optimised, but the mindset is there…
Combining social media & TV advertising, tick. Content producing teams tick. Insight & analytic expertise, tick. Dedicated, multi disciplinary social media teams, tick. Programmatic advertising, tick. A test and learn approach with the freedom to fail fast, tick.
Problem is, lots of the above aren't 'tick' in most organisations. The team structure, nor embedded culture & strategy aren't quite there yet. But fear not, fair digital champion, you will have your funky command centre, or real-time marketing engine – just be aware of these 5 realities…
Reality 1 – You really really must know your audience
Knowing your audience is essential as a marketer. But in real-time you really need to know who you are communicating with, because you are starting a dialogue, a two way, mutual beneficial conversation or atleast the potential for one. You need to understand how your audience would react to content you put out, the key influencers, the tribes, where they are across social networks and when they are active. And yes, typical demographic and/or psychographic information which helps you to paint a real picture of who these people are and what makes them tick (or ticked off).
Reality 2 – You really must know your moment 
Essentially, you need to understand the context and conditions around which you are communicating. None more so than if you are trying to "own the moment" whether that be an event or otherwise. Understanding similar moments, how your audience fits into the moment, key trends, risks to mitigate against or opportunities to capitalise on. This knowledge will equip you to react in the best way possible. And don't forget, it is not about one single moment, you should think about how you factor key events and milestones into your ongoing calendar of activity.
Reality 3 – Real time is really resource intensive
You need the right blend of skills at your finger tips for starters. In order to monitor, analyse and react to conversations in real-time. So this means you need your community manager, your customer service team, your PR/comms on standby in case of an emergency, your creatives, your content producers and your co-ordinators. So, yes, just by the number of people involved in the process the reality is really time consuming and resource intensive. But really, the resource intensiveness comes through in reality 4….
Reality 4 – Real time is not all really real time – 75% planning
Do not underestimate this! We were fortunate enough to have the fabulous Jerry Daykin at one of  our Social Speakeasy events last year – who shed some light on the famous Oreo Superbowl moment who told us about the in-ordinate amount of planning that went into providing the framework to allow the brand to captialise on that moment. This should start with scenario planning to cover the basis, and to highlight gaps which may present risks and opportunities. This will also help think about the story you want to play out, the resouces that may be required and the content that would need to be created! Do you need to plant the seed with external influencers ahead of the moment and on-board them with what you will be doing? Possibly. Forcing yourself to plan outcomes will help to surface the questions and crucially the answers that will prepare you for real-time success.
Reality 5 – Real time requires really good (some planned) content
If you know your audience, the context of the moment and the story you want to create this is your starting point. But what is the point of playing this resource intensive game if you are not going to have any significant impact and exposure? To do this you need the content. Not everything you build around executing in real-time is done entirely off the cuff, trust us. If you are trying to own a B2B event and you have the agenda, you have a good idea of the topics of conversation that will play out. So, what useful, relevant content can you create that relates to these themes and topics? If it is peak sales period, what are the typical customer service conversations that play out and is there a way to create content that will help your audience with their queries to reduce the impact on negative conversation. And you should not just be thinking about "social content" – think about content that could be created to aid the physical experience and how that could then play back out on social media.
Reality 6 – If your approval process ain't right – you should really think again
Simply put, if you can't take an idea through to activation, no matter how small in real-time then don't bother. How do you speed up approval processes? This may be a bigger challenge that requires a whole change in ethos, let's hope not (read more about the role of social media and real-time in digital transformation ). At our recent Social Speakeasy event with Aman Matharu from Pepsi Max, he told us that their teams had each other on WhatsApp (including the Seniors) to allow them to communicate more effectively to ensure speed of turnaround.
Reality 7 – Real time execution requires really smart people with a range skill sets
See reality 4.
Reality 8 – Real time execution requires really good tech
You need to monitor the conversation as it happens, go figure, you need an appropriate tool that helps you do that (social listening/insight). You may well need to think about your communications workflow, particularly through social media channels so the need for a social media management tool. It would help to understand who is talking to you, particularly if they are already customers. There is nothing worse that consumers feeling like their conversations are not joined up, so you will need to think about you use CRM tools to inform and track the conversation across multiple departments (if needs be). Like I discussed in a previous blog article 3ps of social media – people, people, people – the smart people come first but don't under-estimate the need to have the technology at your finger tips to hone in on the conversations that matter.
Reality 9 – Real time really needs the input from multiple departments
Marketing, PR, Communications, Customer Service, Senior Stakeholders, Creative, Content, the list goes on. If marketing are running a real-time execution which could create negative conversation that could affect customer service or create the need for a PR response, the departments need to work together. I explore this more on a previous post The Future of the Social Media Department.
Look out for more from the IF team on real-time activation's for clients that will whet your appetite! But if you are planning one yourself, don't forget to cross reference the 9 realities!