August 17, 2016
Following hot on the heels of Twitter's announcement that the platform was introducing #Stickers as "…a fun new way to add creativity to your photos and connect them to the world on Twitter", the platform has now invited brands to join the party with "Promoted Stickers".
For the record, we called it in a previous post 😉
Using #Stickers is as easy as uploading or snapping a pic using the Twitter app, going into edit mode, tapping the smiley face (bottom right), choosing a sticker from the sticker library that best captures your innermost thoughts and primal passions and slapping it on your pic for instant social street cred.
We featured this gif in a previous post, but I'm reposting it here as it perfectly illustrates how you can enhance that sweet photo your bestie snapped of you backflipping over an elephant by adding glasses and a hat to your pachdermial pal.
Coming soon! Unleash your creativity by adding fun #Stickers to your photos on Twitter: https://t.co/Ph92Oivyhy pic.twitter.com/NZoM6nHenD

— Twitter (@Twitter) June 27, 2016
As of Monday, you will now be able to add branded stickers to your photos too, with PepsiCo stepping up to the plate as the first brand to boldly go where none have before. They have been given a generous allowance of 50 branded stickers in the sticker library (only available in 10 countries), but brands going forward will be limited to sticker packs of four or eight.
Where the stickers do have some merit is that they act as visual hashtags. Simply put, this means that clicking on a sticker on a photo will take you to a new timeline where you can instantly see how other people are pimping their pics out with smiley-face suns and shades.
However, this does open up an interesting avenue for brands that want to engage with people who are using their stickers. The potential for brand promotions and encouraging user generated content is something worth considering if you're a brand looking for an innovative way to engage followers.
Some stand-out examples of people using Pepsi's branded stickers include:
Having some fun with the new @pepsi stickers #SayItWithPepsi pic.twitter.com/UQJsUIkaRU

— NYSE (@NYSE) August 16, 2016
Dad, don't make me beg, I just want some Pepsi in bowl tonight — Thank you, Milo #SayItWithPepsi #PepsiMoji pic.twitter.com/bJfeoDs15z — Nick Kaplan (@NicKapz) August 17, 2016
Maya posing with #PepsiStickers pic.twitter.com/wWffVbdgYP — Alex Wu (@alexwu) August 17, 2016
It's getting wild out here on the streets! #SayItWithPepsi #Stickers pic.twitter.com/4VFEmTSVXT — Bob Belciano (@rbelciano) August 16, 2016
Me: Who loves @pepsi??
Dog: pic.twitter.com/bS3T8OLBYT

— Michael Eng (@flightmike) August 16, 2016
These @pepsi #Stickers are amazing! #StickTogether cc: @blairswalker @calknight pic.twitter.com/RJmv1CHy9W — Bob Belciano (@rbelciano) August 15, 2016
From a broader perspective, this move is a significant one for Twitter because it's a bold step forward for the platform as a medium for not just communication, but also content creation.
Snapchat is blazing a trail in this regard because it has known from the start that sharing content is just one piece of the pie. Enabling people to create it and express themselves in fun and creative ways is a powerful way to attract and keep new users engaged.
Whether or not this will have any effect on Twitter's revenue growth slowdown (graph below) remains to be seen.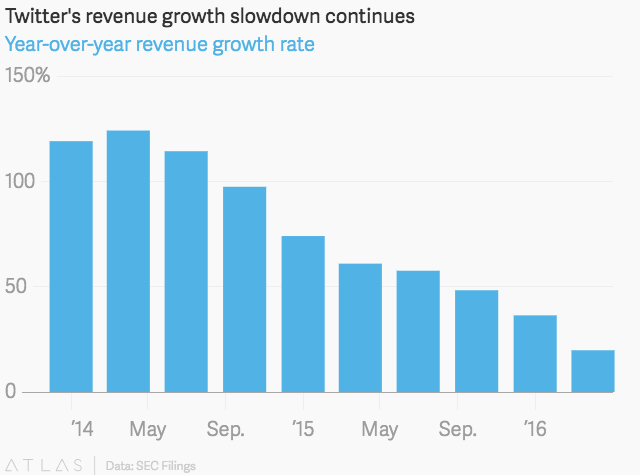 Only time will tell how sticky Twitter's promoted stickers will be.