July 1, 2015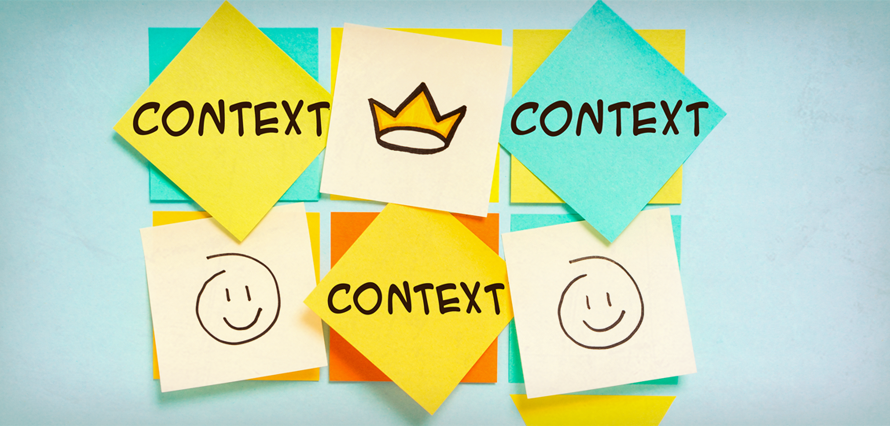 It's been 20 years since Bill Gates uttered the famous words "content is king" – and for the last two decades, it has been a mantra by which marketers have lived. But mobile and smart technologies have changed the way that people interact with brands and their content, which, in turn, affects the kinds of content with which they are interacting. To that effect, context is now king.
Research by Ofcom into internet usage shows us that 86% of UK adults can access the internet anywhere and often choose to. The hours of internet use have more than doubled since 2005, and out of home use is far more commonplace.
The online community now resembles a heaving pub on a Friday night – everyone struggling to be heard over and above everyone else. And this is where context comes in – knowing how, where and when to send out your messaging in order to give it the best chance of reaching your intended audience.
To give this context (see what I did there?), I'll take you back to a previous blog, where a colleague selected his key takeaways from the Social Media World Forum back in June:
"Tools like Hootsuite surface the top 5 most retweeted or engaged tweet via the platform, the best performing post contained an image. Are you going to make tweaks to your content plan or business decision based on that type of insight? That top tweet contained a picture of a cat which was the variable not highlighted, cats are well engaged on the platform but has no relevance to your brand."
What this means is that looking at one metric is not enough to give a full picture of what content works and what doesn't. I've written before about optimising content in real time, and these are some very basic steps to help your content perform better. But to elaborate a bit further, here are the metrics you should be looking at and comparing to see which bits of content are the 'best performing' – this is the context:
Time posted – this is variable, so has to be taken into account. Often, just 5 minutes can make all the difference.
Type of content – whether it is a post with an image is often as far as people go. But is it the image or the copy that is more effective? This can be easily measured using A/B or multi-variant testing, where one part is always kept constant.
Format of post – within each channel, there are so many different ways of posting, it is always worth playing around with what works. Take LinkedIn as an example, is it a standard post, a publisher post, an embedded slideshare, or a video?
Tone of voice – this does not just refer to your tone of voice, or your brand's, but that of your audience too.
Engagement – this is often the main metric people use, but the type of engagement can tell us a lot about the content the audience wants. Content that is shared vs content that is liked tells a story in itself.
Length of content – this is particularly relevant to long-form content (blogs, white papers, slideshares, etc.). And within this metric comes whether or not there are images, infographics etc. in the blog, and whether or not they are above the 'fold'.
Landing page – If you're putting your content behind a landing page for the purposes of lead generation or data capture, are all your landing pages the same? It is worth using the A/B or multi-variant testing on these as well.
Targeting – How specifically targeted was your paid activity? Again, by A/B testing with your audiences and your targeting (affiliates, TV preferencesm, people they follow, location etc.), you can get real data that will help inform your wider content strategy.
Clearly, there are more metrics you can add should you want the full picture, but the ones above should give you a rounded view of the sort of content that performs best.