July 27, 2021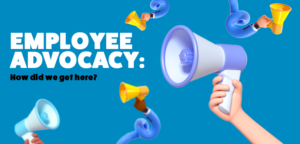 Employee advocacy has moved centre stage in social marketing. It is accelerating as a program, pushing out its messaging in all new ways and putting employees at the forefront of business promotions and campaigns. What is driving this rapid increase in employee advocacy across social media, and what can we learn from it?
That's what we set out to discover during our recent Employee Advocacy webinar, where we were joined by Malin Liden, Vice President and Head of EMEA Marketing Transformation Office at SAP, Tim Williams, CEO of Onlaytica and Anita Veszeli, Director of Social Media and Advocacy at Ericsson. Immediate Future CEO Katy Howell spearheaded the discussion, which ranged from best practices and lessons learned across years of experience, to valuable insights about where employee advocacy is headed. Don't feel like reading? You can watch the full webinar here:
So, step one: what's the big deal all of a sudden?
Well, it's not rocket science 
Our recent Technology CMO Outlook Report (download it now at an immediate future website near you) shed some light on the reasons for this shift in focus on employee advocacy. You've probably already guessed the first reason: the pandemic. Everything went virtual. Our trade shows ended, face-to-face meetings disappeared overnight, but we needed to still be able to build a rapport with buyers. The answer was, of course, digital, giving employees the chance to directly connect with prospects on social media.
Number two is a little less obvious: trust. Sadly, trusting companies is at an all-time low. In the B2B world, this has resulted in a shift amongst successful companies, moving away from lead gen to branding through putting employees front and centre. People are your brand, as they say.
The third change is that buyer behaviour has changed. 75% of B2B buyers have admitted to using social media to become more informed about vendors. 48% of decision makers on social are spending over an hour a week looking at thought leadership that buyers are producing. Social media has become a platform for B2B activity in a way it never has before.
How we have changed
Anita Veszeli kicked us off with her background on employee advocacy and how we can work to improve on the foundations laid by companies over the last decade. "Employee advocacy has matured, because at the beginning, it was really more like brand advocacy, sharing content, not necessarily employees as thought leaders." Today, employee advocacy is made more authentic by not repeating the same messaging and sharing more than just company news to really establish employees as thought leaders in their own space. We need to talk about them, not just the brand.
Malin emphasized that it's never too late to learn and apply the lessons gained from other companies. Throughout her work at SAP, she's been involved in social selling and while it certainly had success, she believes there is far more promise in employee advocacy. "In the two years that I led the social selling program, we made £1.4 billion in pipeline, and I still argue that employee advocacy is the bigger opportunity."
We also heard from Tom, who shared his unique, tech platform perspective. Five years ago, brands were purchasing employee advocacy platforms, but the programs would get stuck on sharing brand news. Now we've seen the emergence of subject matter experts, who have become thought leaders and external influencers rather than just speaking internally to employees. "The big difference for me is that it's not a tool for everybody. It's a program to leverage, support and enable the different functions and personalities to further their own objectives."
Why should you hop on the employee advocacy train now?
We discovered that the value of employee advocacy is more than just making return on investment (ROI). There is a deeper value that makes it both attractive and worthwhile for companies today.
With employee advocacy it pays to do the right thing. If you encourage your employees to share, if you encourage them to build thought leadership and if you have an environment where they're enabled to speak about what matters to them, you create variety through multiple voices telling a corporate story in a more engaging way. A company will also expand and deepen the quality of networks through employee advocacy. The benefits are limitless: employee engagement, building communities, etc. Malin added, "If you have employee advocates talking about your brand in a positive way, what better brand awareness can you get for your company in terms of attracting talent?"
Tim revealed why, with all the benefits of employee advocacy, many companies still seem to "just not get it." Many B2B leaders are worried about the time investment and still don't see the practical benefit in a social or digital presence, feeling it detracts from the actual work that needs to be done. He said getting business leaders onboard is about convincing them that the investment into employee advocacy is not as large as it seems, that it won't take ten years to become leading voices in an industry, and that they will soon be speaking to potentially thousands of interested, valuable people with every post.
Anita commented on how many employees are usually already on social, but they're on social as private people. Even in companies that would rather have no activity on social and have all employees simply focus on their work, advocacy is happening in private regardless. Every time a member of the team posts a Tweet or otherwise engages digitally, they are saying something on behalf of the brand, whether they are doing it consciously or not. It is better to work together with them, support them and educate them on what makes good content. A company that focuses on their employees this way doesn't just strengthen their brand image, but also empowers their employees and cements their voices as leaders, increasing prospects and securing routes for advancement. It's a win-win.
So, we've outlined why employee advocacy is so important in today's digital world, and the value of the program beyond simply increasing ROI. Now it's up to you. Get out there, empower your employees to share their voices and dive headfirst into the world of digital!
We've got more insights coming your way from our webinar, so stay tuned and otherwise head over to our social channels for more information!