November 1, 2021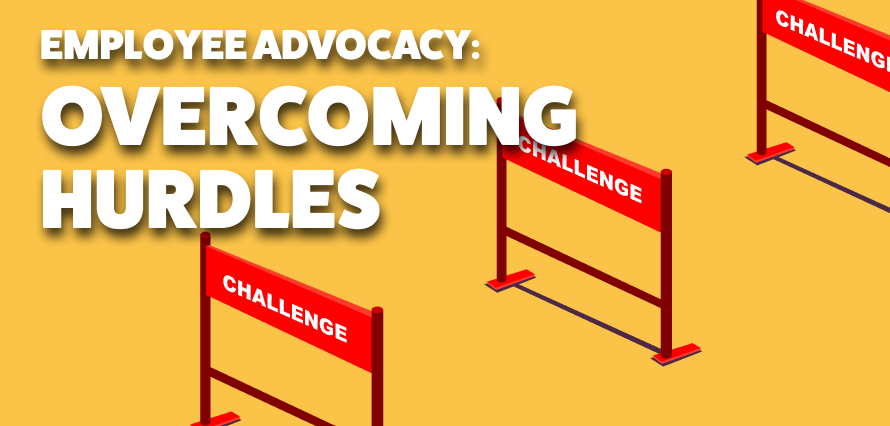 Following the success of our first webinar Talkin' 'bout 'employee advocacy' revolution, we invited our panel of experts for a follow-up conversation to help tackle the challenges that businesses face when building and growing an employee advocacy programme.
Katy Howell, CEO at immediate future, was once again joined by an all-star panel, who can be credited with major advancements in the space.
SAP's Vice President and Head of EMEA Marketing Transformation Office: Malin Liden
Ericsson's Director of Social Media and Advocacy: Anita Veszeli
Onalytica's CEO: Tim Williams
Now, let's get into the nitty gritty. Here's some of the no-nonsense advice our panel gave in response to some of the biggest challenges facing employee advocacy:
Motivating Employees
This was the top concern for our attendees, with 71% of respondents citing employee buy-in as the chief issue with advocacy programmes. To marketers, this may seem like a non-issue, but we often forget that this is our bread and butter while employees in other departments may be left thinking "well, what's in it for me?"
Malin Liden recommends keeping this perspective in mind when promoting employee advocacy. Rather than positioning the programme as what the employee can do to benefit the wider organisation, they must instead realise and communicate the benefits that social media can bring to each individual employee: "Tap into networks, position yourself for leadership, open up career opportunities. There are a lot of really positive side effects but it's sometimes hard to explain before you feel it."
By highlighting the benefits that social media facilitates for career development and peer-to-peer learning, Liden insists that employees are not more only likely jump in on the efforts but are also more likely to continue engaging once they start seeing results.
Measurement
It's no surprise that measurement was named as a key challenge in employee advocacy, with 21% of our respondents listing it as their top hurdle. Tim Williams insists that measurement can be used as a facilitator for employee advocacy, if done the right way: "If you provide the right measurements, then they're going to be really motivated in the programme, so it does work. But it doesn't work if you do a leader board for the whole company."
Tim insists that focusing on vanity metrics like impressions will do more harm than good. Businesses should look to promote true and meaningful engagements, rather than simply pushing out material to feed spamming machines.
Leadership Buy-In
29% of our poll respondents attributed leadership buy-in as the top challenge in employee advocacy. Panellist Malin Liden agreed with respondents, citing this as a challenge she faced herself at SAP. Senior level execs are often hesitant to promote themselves online, for fear of being sold to. While this is a valid concern (we're looking at you social sellers ), she argues that the benefits outweigh the negatives and that the best way to get leadership buy-in is to lead by example.
"He was one of the first top executives who wrote his tweets himself, but he was very particular about really managing his own brand himself and really showed the entire organization that it's cool to be on social"
It only takes one person to pave the way, so find them and give them the tools they need to succeed. The rest of the team will fall into place once they see the benefits first-hand.
Stay tuned for part two of our blog, which will further unpack the challenges discussed on the webinar. In the meantime, you can sink your teeth into more content on employee advocacy:
If you're still hungry for more, drop us a note here.