By if-admin | September 11, 2019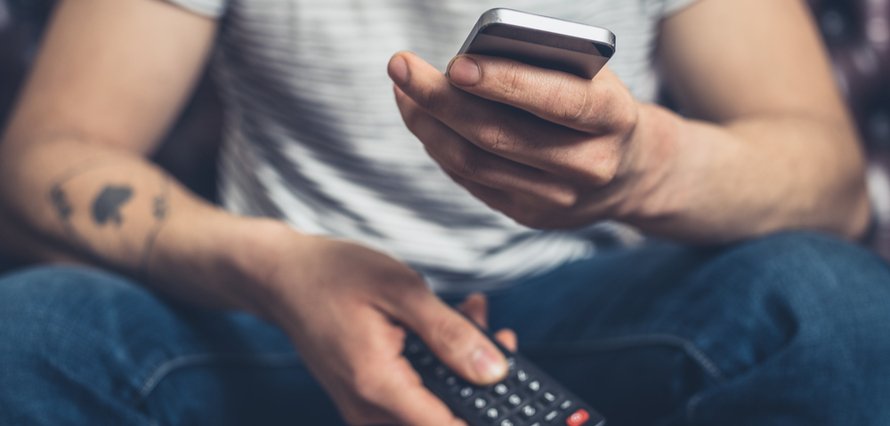 Episode 3 *spoiler alert* don't read unless you've watched!
The rise of second screening has seen TV become a substantial driver for social media activity. TV and social are complementary. In fact, they can now be seen to feed off each other. Never more so than GBBO on TV and social. They were hand baked for each other!
As we said in last week's GBBO blog, Social and Bake Off are an opportunity for advertisers. But just how much of an opportunity is social TV. Where is the value?
According to IPA Touchpoint data[1],  52.5m of us dual screen in the UK (mobile and TV). Spending upwards of 4 hours a day doing so. And on Facebook, that accounts for 120 Facebook and TV sessions.
It's primetime that's king and GBBO sits firmly in the prime time slot. Kantar Media's[2] looked at last week's Bake Off numbers (3rd Sept) and reveals 9.6m impressions on social. Just a tad behind Question Time – and not bad given that the launch show TV viewers were roughly similar.  OK, impressions are nice. A benchmark at least. But reach offers a more precise evaluation of #bakeoff.
So, we took a look at the reach numbers on last night's programme. According to analysis we did using Brandwatch they're topping 12.5m. Based on over 6,000 posts, published whilst the programme aired, from 3,350 authors. The numbers will grow as we take account of catch up TV and ongoing news stories through the week. But this gives brands a good idea of where there is an opportunity to tap into the reach.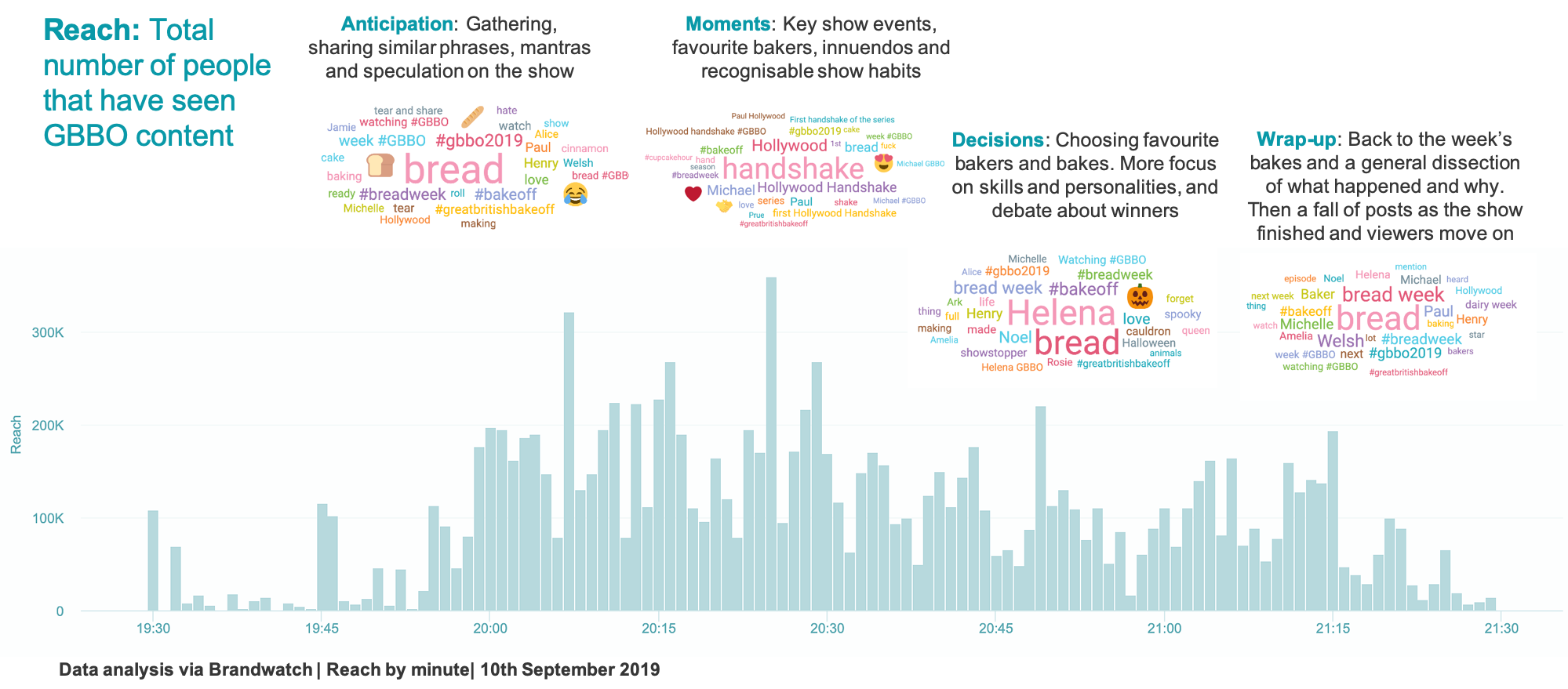 The community moves as one
Looking at the content that is driving reach we can see how the GBBO community tends to behave as one. Following the ups and downs of the show together, creating bubbles of content that buzz for minutes and then fade.
Nearly all episodes so far have started with anticipation…
https://twitter.com/mattstokes4_/status/1171500393542471687?s=20
Driven by the need to start the connections, join the fun and create a sense of belonging to the show, people post before the programme even begins. We see similar on other social TV programmes, such as Love Island. So brands should start early, if they join the chatter. Getting in on the excitement sets your tone of voice and prepares social engagers for your posts.
But once the show starts, there is an underlying hum of content. People track the programme, add opinions and generate discussions as well as tell jokes.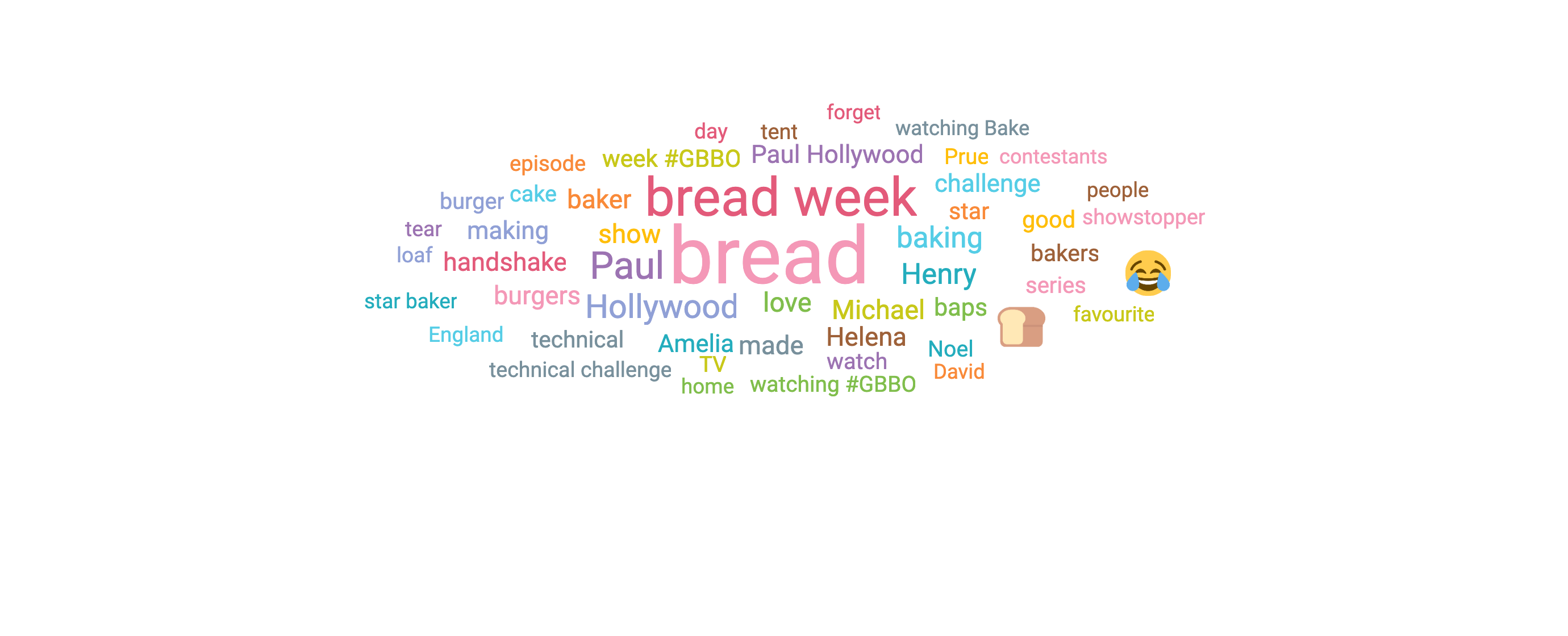 As you can see, the hum of content tends to follow the general themes of the episode, the presenters, judges and bakers in equal measure. It maintains reach, but doesn't drive it.
And then there are the highlights. Whether that's in-jokes like Paul's 'Hollywood Handshake', or Helena's Halloween obsession, the community is drawn together for a moment. And it's these moments that garner the most reach.
A handshake from Paul in Week 3?! Someone's keen this year #GBBO pic.twitter.com/VKyUjbjJ70

— Amy Dawber (@AmyDawber23) September 10, 2019
The Diffusion Group[3] (TDG) finds that 73% of social network users engage with TV-related content on the sites. It's the moments that drive the most reach. 43% like making fun of shows with memes and jokes, whilst 39% engage with recaps (partly why @BritishBakeOff does so well is because it runs mini replays). Brands that anticipate and prepare for these can grab the spike of conversations and extend their reach.
Making the 'value' link
A recent study by Kelley School of Business[4] at Indiana University, makes the link between social TV and opportunities for brands. Apparently ads that aired in shows with more social TV activity had higher ad responsiveness in terms of online shopping behaviours.
They put this down to the fact that viewers are more engaged. And we see this in programmes like GBBO where loyal, committed audiences maintain a social presence from the start to the end.  Bake Off is not alone. Game of Thrones saw an uplift in social media activity for advertisers of over 100%, followed hot on the heels by Stranger Things. The key is to find your brand's niche and be relevant and relatable.
Do that and the results will follow the opportunity.
You can read the full GBBO and social report at https://po.st/GBBO19
---
[1] Attention across screens: Facebook and IPA Touchpoints Data
[2] Kantar Media: Social TV Ratings
[3] The Diffusion Group (TDG) : The Ascent of the Social TV Engager
[4] Research on whether TV programmes that are talked about on social are good for advertisers