August 27, 2019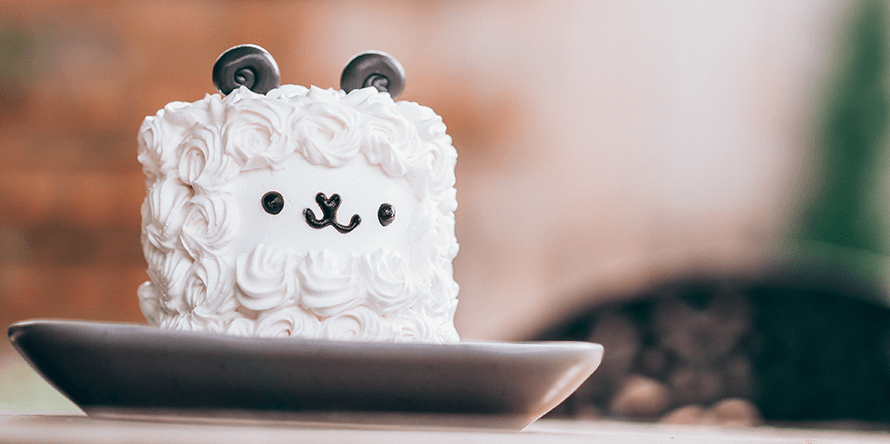 Whilst most of the population is settling down to our favourite end of summer programme, Great British Bake Off, community managers are poised, fingers on keyboards, ready to work the show to get their brands noticed on social. And it makes a lot of sense after all the first episode is not only important in terms of largest viewing figures, it's also the episode with the greatest number of tweets and social posts across the series.
The build-up over this week has been intense. Kicking-off with the announcement of a "baker's dozen" (13) of new contestants, social media fired-up and is steadily rising at pace towards Tuesday night. As of Sunday night the Channel 4 tweet requesting a 'like for a show start reminder' has almost 14,000 hearts and over a thousand retweets.
Like this tweet to set a reminder for the first episode of The Great British Bake Off! #GBBO pic.twitter.com/7OlMwMz9MT

— Channel 4 (@Channel4) August 20, 2019
A look back on what happened on social last year gives us some clues as to what to expect for the first episode and how we can maximise the success for all those #GBBO campaigns that are starting at 8pm tonight. We took a deep dive into the first night of GBBO 2018 with Brandwatch data as our guide.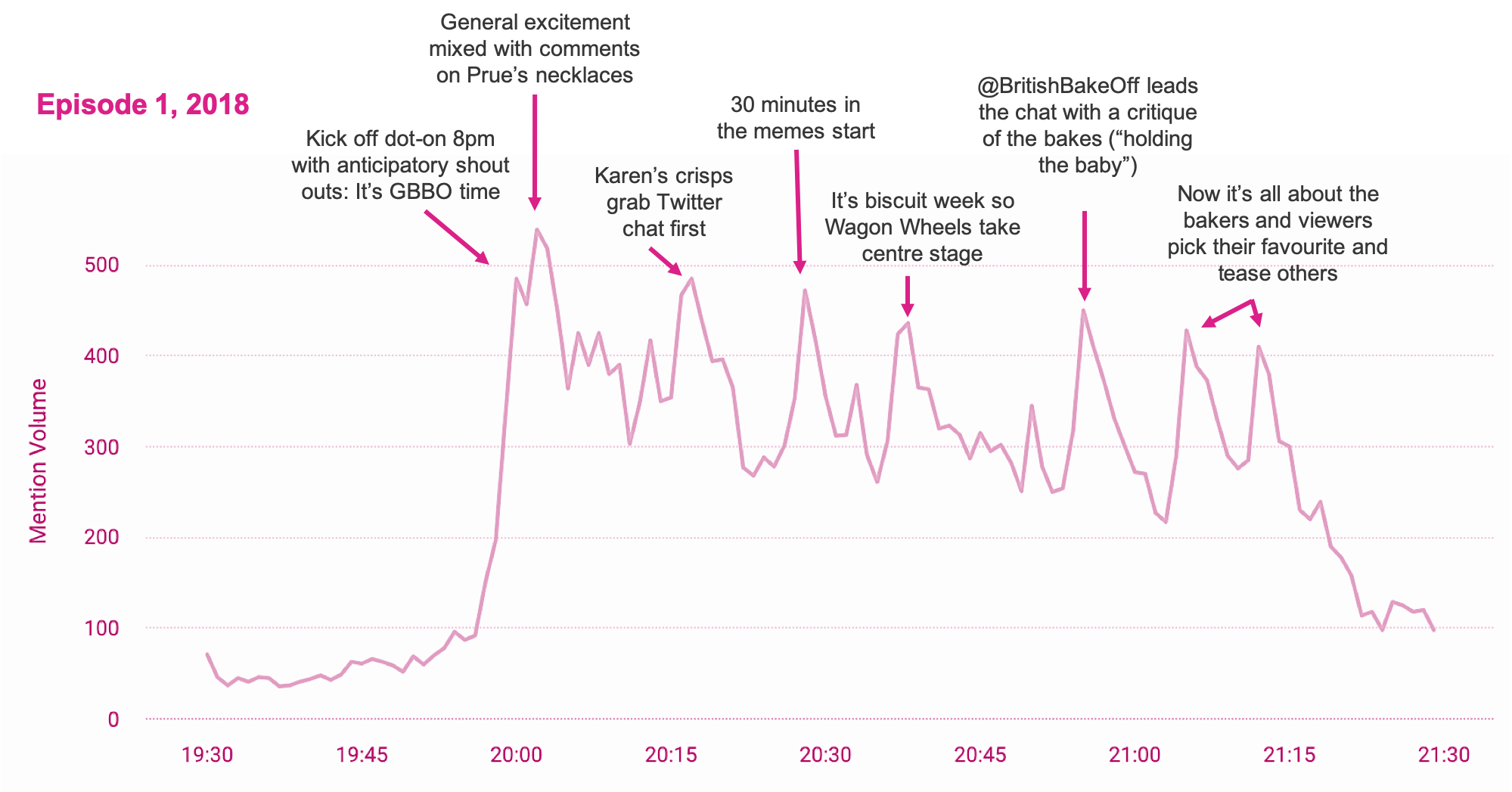 Go hashtag mad
There are a multitude of hashtags for Bake Off. The most popular is #GBBO, followed by #bakeoff. But there is a long tail of hashtags that includes #GBBO2018, #GreatBritishbakeoff and specific weeks, like #biscuitweek or #cakeweek. And then you have the brands with their posts including #competition and #win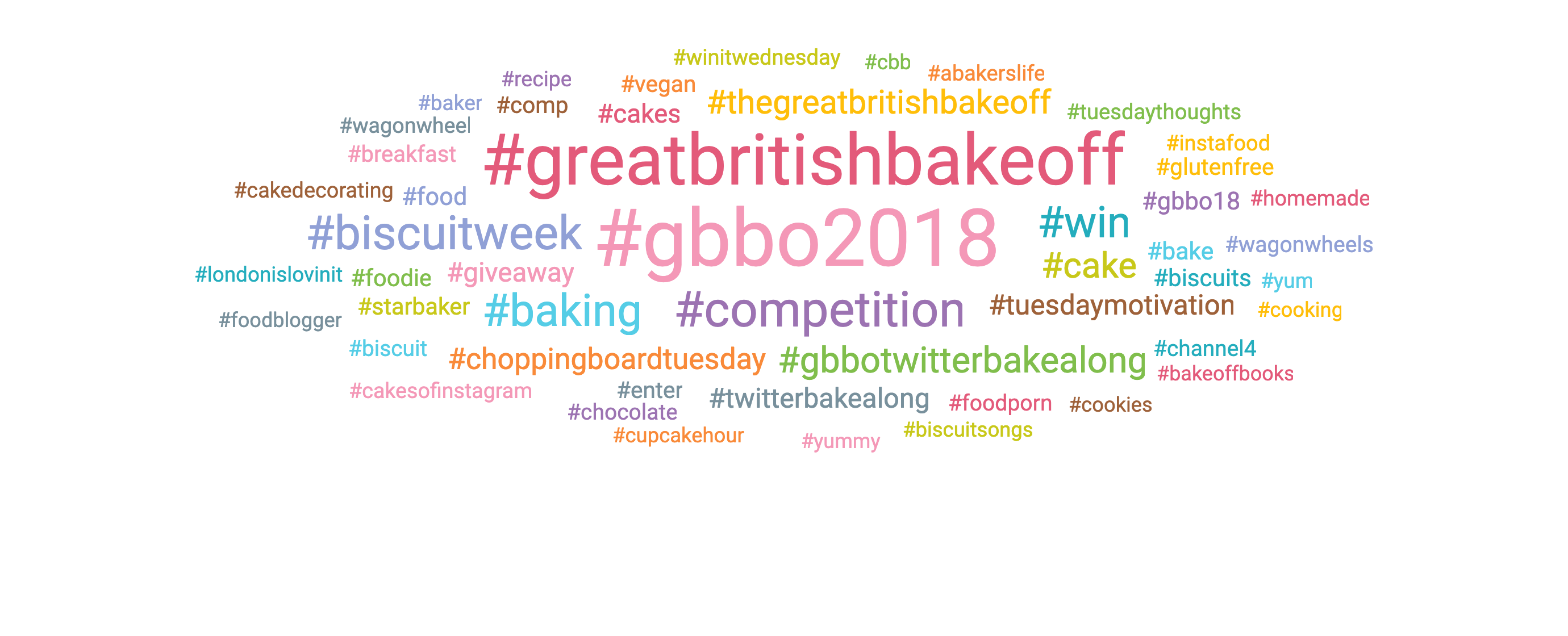 GBBO is not only all about the hashtags, it loves an emoji. Not just the obvious cake and cookie ones either. So much is celebrated with crossed fingers, raise the roof, applause, thumbs-up, and many facial expressions. Viewers love to express their emotions throughout the programme.

Vegan played a strong hand from the start
Bake Off is subject to general food trends too. And that means the vegan conversation started immediately the show aired last year. Even though it wasn't vegan week, it was discussed loudly featuring the strongest out of all the dietary conversations.
People talk about alternative ingredients and influencers, as well as brands, jump on the vegan topic with details on making bakes vegan or substitutes for animal products. Recipes are a big feature of the conversation and there are a lot of posts linking to cooking sites, blogs and books.
There are also some common threads from the 2017 series appearing in 2018. Chocolate is a constant part of the chatter.  And as this first episode was all about the biscuits, Wagon Wheels made a return to the conversation. Last year Jaffa Cakes popped up again in cake week and it's likely they and Wagon Wheels may make an appearance again in 2019.
Watch out for the Twitter favoured bakers
Pretty quickly decisions are made on social about the bakers. And within the episode certain bakers spike. Last year it was Terry and Manon. So watch out this year to see who is trending.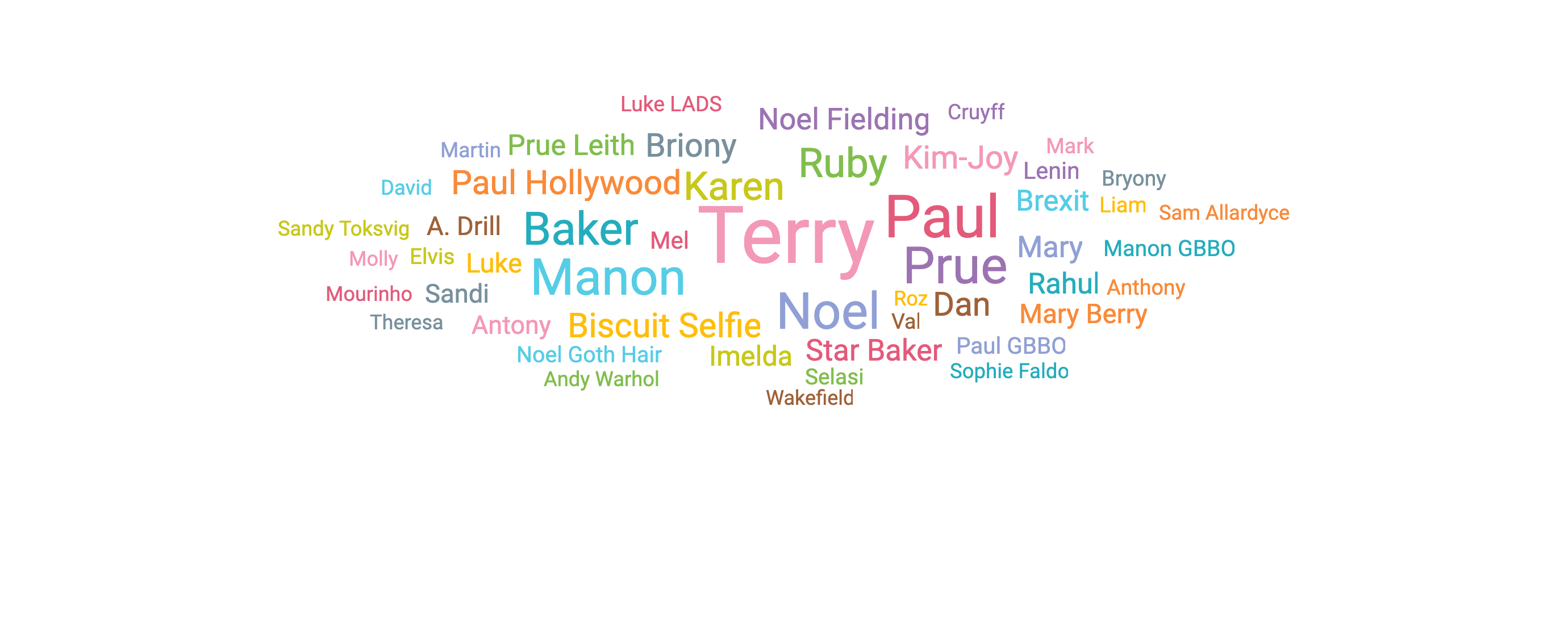 One interesting point we saw from all of last year, is that when it comes to the judges and presenters, it's the boys that lead the conversation. Paul and Noel get mentioned first and foremost – so tagging them in might be an idea.
Innocent is the first to rise
When it comes to the brands, it is innocent who leads the way. Whilst there is some activity from other brands including Pyrex and Dr Oetker it is Innocent who steal the show yet again (they dominated conversations in 2017). Their focus on funny memes, quirky quotes and general humour is in keeping with the shows tongue-in-cheek comedy.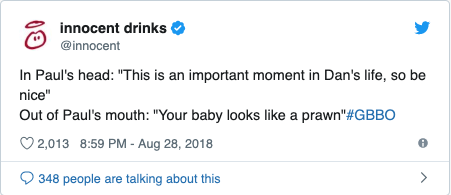 The result is a huge number of likes and retweets – and Innocent dominate the GBBO conversation!
Memes are the currants in the bun
In fact, it is memes that cause the most in programme spikes on social. Jokes, mild sarcasm, and teasing of bakers and hosts brings much joy to viewers who retweet and comment in abundance.
YES, IT'S BAKE OFF! The heating's on and I'm eating comfort food…let's put up the tree and call it christmas. #GBBO

— Tom Fletcher (@TomFletcher) August 28, 2018
Good luck with your posts tonight. Talk chocolate, watch for rising bakers, use hashtags and emojis, and above all have fun.
We'll be doing a post-show analysis of this week's show and then for every episode in the series, so keep a lookout.  If you can't wait, then download our GBBO report delving into the whole of last year's programme to find the nuggets that will make you a showstopper in social.
*Update* The first episode of 2019 analysis is now live