By if-admin | October 27, 2015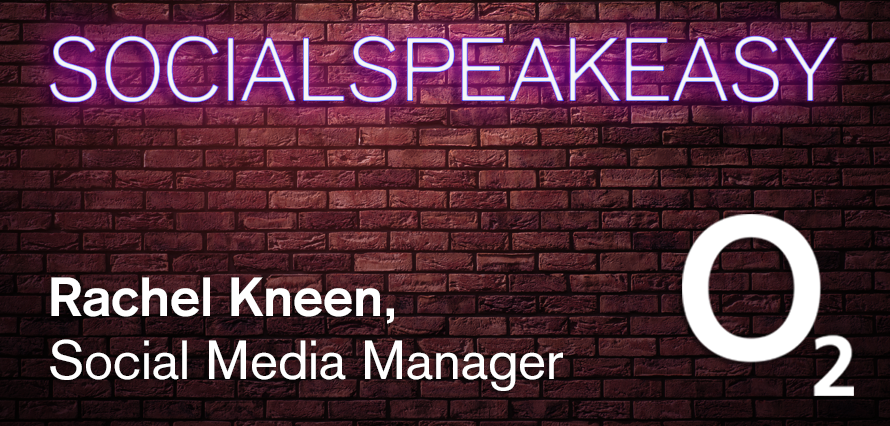 On 22nd of October, we welcomed back Rachel Kneen, O2's social media manager, to our monthly Speakeasy to speak about the importance of content. Rachel has been working in social since 2009 – to put that into context, at that time, people spent more time on average on Myspace than they did on Facebook!
Rachel passion for social began at a start-up with the challenge of hitting a large audience on a shoestring budget. Six years down the line, she's now working for O2 after being inspired to join after a much publicised response to a network outage.
O2's response to this crisis was revolutionary at the time, with some of the responses to offensive messages bordering on the controversial:
By allowing staff to reply in a risky tongue-in-cheek manner, O2 managed to create a social media buzz, gaining national publicity, and turning a negative situation into a positive.
After warming up the crowd with some colourful tweets like the ones above, Rachel opened up her presentation by dispelling one of the oldest marketing clichés – content is king. She explained, "too many brands have taken the mantra of content is king and think that just means producing loads and loads of content. But why they are creating it and what is it going to drive?"
Rachel believes that adding the caveat that "distribution is queen" moves us a bit closer to her ideology, but emphasised that both phrases still miss out one vital aspect: the customer.
When creating content, businesses should ask who they are creating it for, why they are creating it, and most importantly, why should people care? Through doing this, you are adopting a customer first mentality. Without this approach, as Rachel points out, you devolve back into the Mad Men days of mass marketing were context is missing.
So how do you achieve context in your content to a mass audience?
With the wealth of data available to marketers, Rachel believes marketers as a whole are failing. 78% of people want to see content that is personal or relevant to them, yet only 37% of the ads they see are actually relevant. In order to increase this percentage, marketers need to create content that customers care about.
As Rachel explains, "every piece of content has a role to play for the customer in the journey you want to take them on. An easy mistake to make is to drive measurable results and forget about the customer (and vice versa)."
What O2 tries to deliver is what Rachel calls "relevance at scale", and the first step is to connect with the right audience at the right time with the right message.
Retargeting in social is crucial, and with Facebook's retargeting structure, you can specifically retarget only the users who watched a video all the way through. This allows you to separate interested users from the disinterested, helping to map out and learn the customer's journey.
A key to creating relevant content is owning social moments during certain events or times of the year. O2 uses a similar technique to immediate future's command centres, in which social media experts, designers, data analysts and senior decision makers sit in a 'war room' scenario, allowing content and responses to be produced in real time.
O2 have repeatedly used their customer base to their own advantage through user generated content. During the iPhone 6 launch, promoting users tweets via O2's channels sent engagement through the roof, at a rate of around 50%.
But one of their biggest user generated content campaigns was the Rose Army campaign run during this year's Rugby World Cup. They employed a hand-picked selection of Rose Army ambassadors to produce content, and motivated them by assigning them tasks and handing out rewards. This tactic was not only a great example of UGC marketing, but a superb example of owning an event through social experiential marketing.
Following on from Rachel's brilliant presentation, a captivated audience grilled her on the finer details of O2's success. The best of the questions (and her answers) are below:
Q: What does the term 'always on' mean for you in the age of relevance and moment-driven marketing?
RK: It's about targeting and precision and understanding the customer lifecycle. Having a constant pot of money for targeting people that are ready to upgrade, and timing: knowing what point they are at in the customer lifecycle. Then having a campaign every quarter, and focusing on the customer not the product.
Q: If O2 were starting from scratch without their raw customer transaction data, what would be the freshest way to try and get outstanding engagement?
RK: There are loads of data pools to tap into, and location is going to be everything, and even more so with Facebook than Twitter. You can buy third party data (and lead generation campaigns are useful), but it depends how much use you will get out of those leads. They can be quite expensive, but Facebook and Twitter ad targeting should suffice if you're just starting out.
If you've been inspired by hearing first hand from one of the UK's top brands, we're hoping to leave 2015 in style as we broaden out to a worldwide audience at the next Social Speakeasy in November. Franky Saegerman, Head of Social Media at NATO, will share how NATO manages content on a huge, global scale and how they measure the impact of NATO's social media efforts. Definitely not to be missed!