September 10, 2018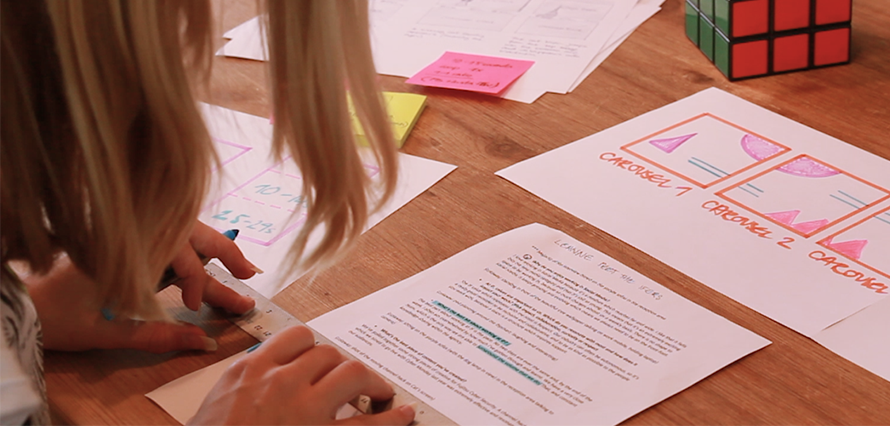 Of course, copywriters and designers need a creative flair. However, when it comes to social media, the art of social creativity is elevated. It becomes a marriage between art and science. With so much audience data from behaviours and interests, to real-time and 'moments', there's an opportunity to create thumb stopping content.
It isn't just the insight that informs the social creative though. There is a dexterity required in creating copy and visuals. More detail and thought is required when it comes to your social posts.  Whether it's crafting the calls-to-action, or flexing with the ever-changing social formats, creativity in social requires agility and a diversity of talents if it's to deliver impact to the brand.
That's a lot of plates to spin in the creative content processes. Read on to see how we go about doing things, the challenges to face and the tips to drive those results-smashing campaigns.
Breathing life into creative processes
Don't let the data drag you down – There is data everywhere in social. We can identify trends, spot insights, flip audiences into segments and look again. We see purchase journeys, interests and weird and wonderful behaviours. All of which are essential in the creative process if you want to deliver relevant content.
But, reviewing 600 slides of charts and stats can really suck the life out of any creative inspiration. So don't force your teams to do that. Extract the nuggets, be playful in the way you visualise the data. Create personals and examples. Do some of the thinking up front and only put the very essence of your insights in front of your wider team. You can always go back and sense check ideas against the original analysis.
Bring diversity into your brainstorming – At immediate future, we place high value on all-agency brainstorms. Why? There are two reasons. The first is to ensure a diversity in our ideas. We want our creativity to reflect the make-up of our clients' target audiences. Whether that's gender, education, colour, age and so on. It makes sense to have a broad range of life experiences in the room.
The other reason is to include a diversity of talent. From our insights to our account teams. We include everyone, even our operations staff! We want the creative ideas to spring from a wide range of diverse heads. Some ideas might be a bit bonkers and not so feasible, but we find they inspire more ideas and often that killer creative. So, it's important to get all of those lightbulb moments out of our brains and into the open for everyone to think about.
Agility lets you draft creative on the fly – Yup, social can change fast. If it's not the algorithms and formats, its trending topics and spikes of memes. Creating on the fly requires a lot of collaboration. Everyone needs to move fast together. But you don't want to waste hours of design time, just in case the ideas isn't right. So drafting ideas in real-time means mock-ups play a big part of social media creativity. Mock-ups help the whole team to understand your thoughts and to encourage their input or amends. Better still, you can stress test them with the team to ensure they are watertight and will perform in the best way possible once out in the social channels.
Figuring out formats – Everyone gets very excited about new formats on social. We love getting to explore new ways of displaying creative such as Carousels, Canvases and Collections. Plus there's the latest techniques and launches such as Twitter Threads, Moments, IG Stickers, IGTV and of course Watch. But before you start messin' around with all the different ways to display your creative concept, it's also important to know where they're appropriate. Choosing formats effectively depends on the goal, the audience and campaign is very important and crucial. It is important to put your objective at the heart of your format choice and not be distracted by the new shiny.
Saying that, do experiment. Take some time to trial a new format. Test whether it can deliver and what your time, resource and budget investment is likely to be. Running pilots are a big part of social creativity and different formats can be the perfect reason to try something new.
Bugbears and how we splat them  
Getting into the tone of voice – A challenge for any copywriter is getting into a new tone of voice for a new brand. This is all part of the skillset of the role, but if you're doing it in-house, our favourite tip for copywriting is using brand personas. This involves creating your brand as though it was a person. Think about what their name is, where they live, how old they are, what they look like, what they might sound like or say and what they enjoy and don't enjoy.  It's so much easier to write for one person you know (even if they are made up), than to write for 'an audience'. The latter is always a bit of an anonymous blob and you quickly find you lose your brand personality trying to fit into a broad audience base.
Setting aside the time – Marketers are busy, busy people. It's not always easy to separate tasks and get things done one-at-a-time. For copywriting and design, there's a lot of value in setting aside the time, whether it's half an hour or three hours, and getting into that creative frame of mind. When it comes to creativity, it's hard to leave it and keep coming back. We'd recommend getting into that zone, channelling your creativity and making the most out of it by giving it 100%.
Social keeps changing! – Yes, it does, and nope, this won't change. If you haven't got the time to be doing your own research every day on what's changed and what's new, then thought-leaders and digital news channels are the ones to follow. Take a scroll through our blog or our Twitter profile (we curate the latest news on this channel) and see what's new from the last couple of weeks.
Smoothing out the process
Briefing, briefing, briefing! – Communication is key to a solid brief. If you don't communicate everything you want and need, you can't expect someone else to deliver the thing that you're after. If you're giving a brief – be crystal clear with what the outputs are, when you need it, and why. If you're taking a brief and there are a few gaps, ask all the questions. The more you know, the better your work will be.
Templates in Adobe suite – This is a techy one for the designers out there. If you're frequently working across the formats and use the same creative aspect frequently, save yourself time and effort by checking out templates in Adobe for Photoshop, Illustrator, InDesign and Premiere Pro. You can use these templates time and time again and they'll make your process a whole lot more efficient.
Take time away from creativity – Now, this might initially sound completely counter-productive, but we promise it isn't! You wouldn't play football for 7.5 hours straight, so make sure you're not exhausting your brain by constantly trying to come up with creative ideas. Take regular breaks away from the topic, and sometimes you might need to sleep on it! (Not at work though!)
Keep curious – If there's one thing that you need in a constantly changing industry, it's curiosity. Find out what you need to know for today and what will help you tomorrow. Keep learning, keep sharing and keep curious. It never killed anyone… other than the cat…
So, there you have our value adds, bugbears and tips about content creation for social media. Get in touch or find out more about what we do with content and campaigns.