By if-admin | May 7, 2020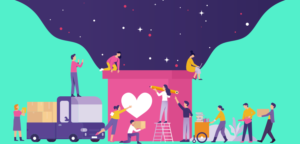 Life has changed. Work meetings are now interrupted by children (our own Managing Director recently had to pause everything because his son was just so darned proud he'd beat a level in a Lego game, which, to be fair, is very impressive). The Emmys will now be televised, and pub quizzes have moved to Skype – usually run by family members you used to tolerate but now welcome into your isolation. Social media is no different, and we have all had to adapt. Here are some of the ways people have used social media to cope, adjust or even thrive during this time.
News, education, laughter 
Memes are the bread and butter of social media, especially now. It's been strange watching the shift from JoJo's Bizarre Adventure memes to informational clips and images about washing your hands, but the amount of information I have received from places I usually go to laugh has been astounding. It's been impossible to escape updated statistics, political decisions and the hopes and dreams of everyone trying to get through another day of being stuck at home. That's both a good and bad thing, but social media has always been about knowing when enough is enough, and it's time to put the phone down and read a book – now is no different.
My favourites at the moment are coming from an AI that is generating memes by itself, giving us gems like this bad boy: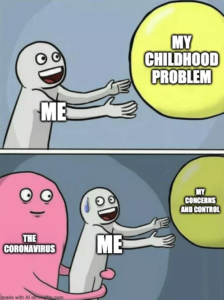 Will we ever stop making memes? I doubt it, but it's clear our future AI overlords will be able to use them to mock us as much as they want.
Some good news
The big example of this is a match made in heaven: John Krasinski has rebranded himself as a late-night television host. The objectively gorgeous actor has taken the lockdown as a means to reinvent himself as some sort of good news Santa, sharing all the positive stories from across the globe, while bringing in a few star cameos as well. Every week he shares a post on Twitter with the next video's theme, where he asks everyone to send him good news stories (the most recent one is love, if you want to take part), after which he shoots and shares his good news broadcast. It's a fantastic way of using social media to collate data, then share it back across channels like YouTube and Twitter for maximum reach. His last video covered graduation, where he invited everyone to celebrate with him across a live stream. Each episode is a corny, low-budget mess, and a lovely way to bring everyone together during this time.
It's obviously not the only great source of good news at the moment, with social media users rallying together to spread some cheer at this time. The Happy Broadcast on Instagram marries cute, uplifting art with inspiring stories from across the world (did you know Iceland's largest whaling companies have decided not to hunt whales this year?), while brands have also joined the movement, like clothing brand Reformation doing a weekly good news roundup, and Monty's Good Burger organising adoption drives to help animals during this time – all joining in the group effort to bring positives to light.
VE Day – Paying Tribute at Home
Across the UK, Victory in Europe Day marks a turning point in history, when the Allies formally accepted Germany's unconditional surrender on May 8th, 1945 – 75 years ago this week. It's an incredible moment every year, one usually celebrated by people marching, coming together or just sharing a kind word with a veteran on the street. This year, however, we'll be at home, but we'll still be celebrating in our own way.
From singers putting on a lockdown concert, to people decorating their homes in red, white and blue while having a VE Day picnic at home, everyone has been finding ways to overcome the distance. Social media has played a key role, with hashtags #VEDay75 and #VEDayAtHome giving advice and ideas for people to planning a socially distanced party.
At Immediate Future, we've been working on one such activity for those stuck at home – the VE Day 75 Art Competition, which aims to raise money for charity by asking artists of any experience level, young and old, to send in VE Day themed pieces (for a small fee). Money raised will go straight to SSAFA, the Armed Forces charity, and we have already seen an incredible number of submissions come in. It's a great activity for families stuck at home to do together, while still giving everyone the chance to celebrate VE Day in their own way. There's still time to enter your submission today before the 7-May deadline, and you might win incredible prizes (such as a Tandem Parachute Jump with the Red Devils!).
For more on how social media is rapidly changing and adapting, check out our most recent Social Snapshot – with Q1 social channel results, feature updates and more.