May 6, 2014
Many marketers recognise the advantages in using social media, but those sentiments aren't always shared. Particularly by the board. So the challenge is how to prove social value?
We invited Richard Clark, former Online Controller at Argos.co.uk and a founding member of the Marketing team at Best Buy in the UK (Carphone Warehouse), to share his experiences.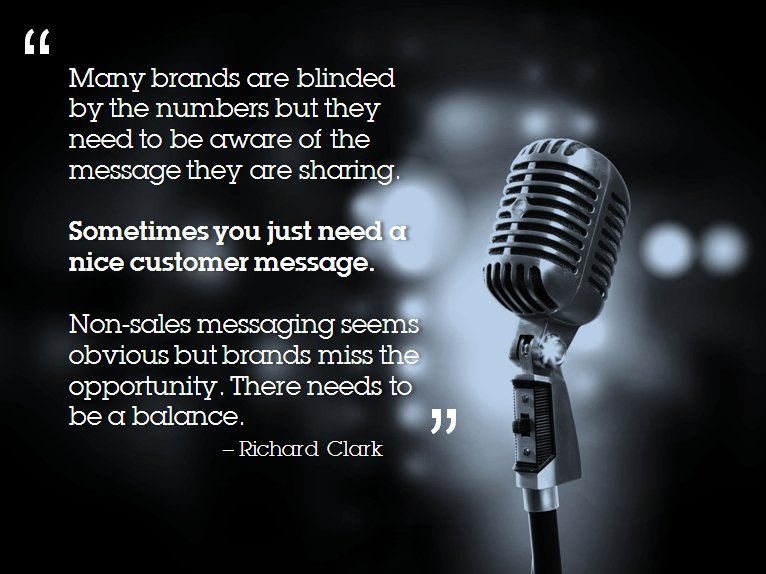 Know your numbers
With a background in financial services Rich was able to apply previously learned techniques to develop an algorithm for measuring social value. Although this wasn't shared in detail, it factored in elements such as basket size and customer lifetime. Because there's no physical product to sell, the lifetime value of customers lends weight to the value (revenue) of the social media interactions taking place.
Rich demonstrated his approach to our audience – brands like ITN Source, Stonegate Pub Company, Mothercare, Canon, WOW Toys, Dixons, Dyson, BMW – with the Best Buy loyalty scheme. This placed as much importance on interactions via social, such as likes and reviews, as it did physical transactions. The brand found that without declaring a reward to incentivise customer reviews, customers were honest in their answers and Best Buy was able to monitor true consumer behaviour.
The thinking, researching and planning behind social messages and competitions, such as knowing what you should and shouldn't do, knowing the best time of day to post, and which day of the week, is equally as important. With such planning brands can investigate the difference in response rate, recommendations, and even the customer reaction to receiving more than one message in a week, which they might display by unsubscribing or by writing a poor review.
The end goal is to understand what the average value increase is if you get customers to interact on social channels? Of course, every brand is different! But in Rich's experience social lends to propensity to purchase and highlights whether customers are likely to make multiple purchases.
Listen to your customers
Still, there is ultimately no social value to be had if you can't track it. So how did Best Buy and Argos set about overcoming this challenge? They went direct to the source: their customers.
The number of likes and followers didn't matter in the first degree for these brands. They asked for customer Twitter handles and Facebook profiles, which they then matched to their customer database. A monstrous task with a database of 11 million UK residents! And a very daunting task when there's no automated tool or magic solution to map social (we did double check!). It's still a very manual process to connect all the dots.
"It's hard work but the value you get is undeniable" – Richard Clark
And, as IF's CEO Katy Howell pointed out, it's a difficult process made even harder when social is so leaky and spills into other marketing channels. Naturally some customers fell through the gaps but it's the closest Rich has come to getting true value and true understanding that the board has bought into.
Speak sense to the board
How do you get in front of the board to pitch social in the first place? This is a question that IF's MD Adam Lewis had. A question that a lot of brands who are just turning their attention to social media may well have on their minds.
Know what matters to the board and how to place a value on loyalty through social and digital. Brands spend a fortune on marketing and advertising, so position social to answer the board's concerns. In Rich's case, how to reach new customers and how to encourage repeat purchases? And all in the most cost effective way (duh).
The CTA that resonated with the board at Argos was how to make marketing more efficient. Social is the logical solution. With relatively little media spend it affords flexibility and provides relevant data to influence strategy. The brand is able to influence new customers and repeat customers using the same mechanics to research customer responses, build loyalty and encourage purchase.
#socialspeakeasy talking about tricks of trade to show the value of social at CEO level @iftweeter #socialmedia pic.twitter.com/PYt9cDzGLu

— Adam Lewis (@adamlewis10) April 24, 2014
Training for value across the company
Another ongoing challenge Argos faces is returns. So social customer reviews are critical. Reviews allow a unique insight into customer reactions to products. This has directly informed decisions on buying, selections for catalogues, and which products are put on promotion.
Being aware of social customer reviews is a part of staff training and through this Argos is able to identify issues, to revise products on offer, and equally to escalate individual feedback and complaints to the customer service team if need be – you see how social is leaky?! It's the perfect example of how social can actively influence company strategy. In this case, social plays a central role in Argos's digital strategy, and proves social value by improving core business KPIs.
But the board are not the only people that you need to convince. Putting a cultural change in place is no easy feat. Traditional brands like Argos struggle to change their ways, but they need to be shown that digital transformation isn't a buzz word. Introduce an internal social network for staff to share ideas, and manage that upwards so that senior management buy into it. Staff need to see the benefit of using social for themselves to advocate its use to the board.
Test, learn, test, learn
Rich had one confession on the night: he is still learning. No one has the perfect system because social is ever-evolving. (Just look at the number of platform updates that are thrown at us!) Ultimately analytics are at the core of social to prove value and ROI but you need to know your core customer to do this accurately. Including the preferred channels they use and what factors influence that audience…
Though Argos has a bespoke system in place and a huge database, not all brands have the same setup and resources. Monitoring tools don't need to cost the earth though. Wealthy information can be gathered from the company website and trackable links alone. But the challenge is not the technology or tool, the real challenge is working out what you need to know. Effectively, you can measure everything in social, but if it's not actionable, then why is it relevant or valuable to your brand?
Stay up to date with our upcoming events, or join the Social Speakeasy Club on LinkedIn