November 28, 2022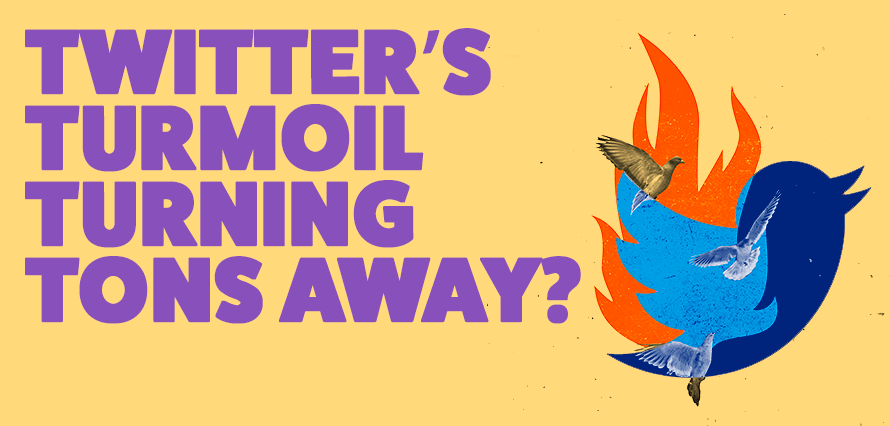 For now, maybe. But we don't really need to remind you of what's happening at twitter – there are daily developments – and at the time of writing this, there may yet be another that's cropped up. The question is, how long does this last?
The media frenzy is driving a narrative that is true – at least for the most part. Big brands are 'leaving' – but not altogether. Many will still have ad accounts with twitter and they will be sitting patiently, waiting to see how things evolve under Musk's stewardship. Taking the PR stance of leaving altogether would need full on deletion – many aren't deleting at all – they're just pausing their activity on paid and organically. The reason for this – well, arguably it's because twitter is a good revenue generator for them and their paid ad performance is superior on the troubled platform compared to its competitors.
We in fact did a blog last week explaining our concern regarding twitter's behaviour and the potential impact on our own brand. It's now time to turn the spotlight back on the platform itself.
While it's hard to argue that the dismissal of so many staff – some actions of which may not even be legal – is hard to stomach, is twitter's reputation beyond mending? We only have to look at other major corporations and their morals to understand that money doesn't necessarily follow the conscious. In fact, if history has taught us anything, it's that while people/brands don't necessarily 'forgive and forget' they become desensitised and revert back to what works best for their business/personal life.
For now, Twitter isn't 'done' – far from it – in fact, many are still on twitter lamenting its behaviour which is somewhat counter-productive when wanting to punish the platform in any way.
Visitors = ad income – and twitter certainly need it!
So, watch this space!
For more social insights, check out our daily blog here.