April 8, 2015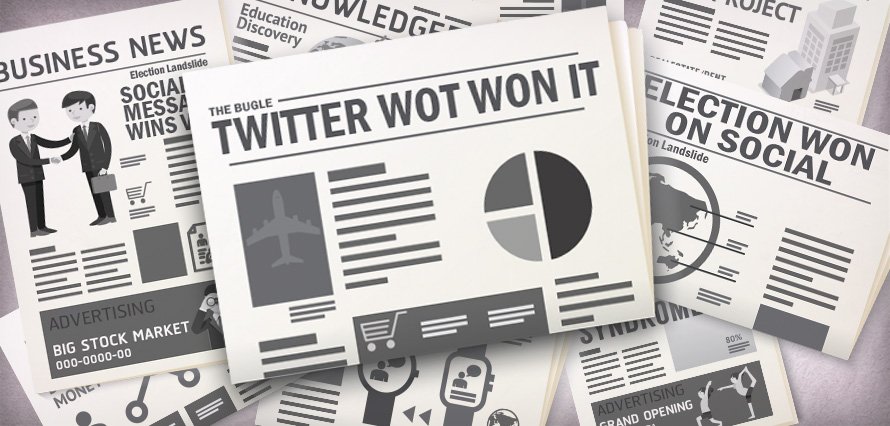 Past UK elections were won by a mix of political manifesto pledges and party leader personalities. But the common platform used to communicate those since the 1950s was television or tabloid newspapers. The Sun newspaper bullishly proclaimed after the 1992 election that "It's The Sun wot won it". What the tabloid failed to mention was that Prime Minister John Major was left with a thin majority and needed the Ulster Unionists to prop up his government when by-elections whittled the lead down to one seat in 1996.
This time, many psephologists reckon it could be social media that determines the outcome of the tightest poll in a hundred years.
With a month to go to the UK parliamentary elections, we decided to make a tourbus pit-stop and run a health score on how the Westminster political parties and their leaders fare in terms of usage and followers on Twitter. We have looked only at verified Twitter accounts as at 7 April 2015.
Why Twitter?
Well apart from the fact the three leaders have a lot more Twitter followers than Facebook "likes", Twitter has a great sense of immediacy about it and can convey emotion, allowing politicians to hide from occasional gaffes as well as send one-liner rebuttals of their rivals' promises. Although politicians are famous for televised "waffle" to avoid a difficult question, they are all coping with brevity of 140 characters or less that Twitter demands. Less is More, if you are looking for another slogan.
Launched in 2006, Twitter was only just starting to spread its wings at the last General Election in 2010, with Cameron, who famously told an LBC Radio show that "too many tweets make a twat", later making a U-turn to sign up and use Twitter in January 2010 – four months before the last election.
With a close-run poll expected, no party or its leader will leave anything to chance. Many of them have drawn direction from events in the United States. Twitter gave a boost to U.S. Presidential candidate Barack Obama's campaign and many said it drove him to the White House. After the 2012 election, Obama's "four more years" tweet with a photo of him embracing First Lady Michelle became the most retweeted in history. Obama signed up to Twitter in March 2007 – a month after declaring his nomination. He now has 57.7 million followers.
But having a social media presence isn't going to be enough to win an election. Obama's campaign relied on an infectious slogan "Yes We Can". That kind of inspirational politics is what the UK party leaders will be hoping for.
At least they have identified the issue. In 2013, Cameron hired as a campaign strategy adviser Jim Messina, chief of Barack Obama's 2012 campaign, which was largely fought out over the internet. Last year, Miliband signed up David Axelrod, Obama's former White House strategist.
Twitter to mature with UK general election
Politicians also figure that social media is a way to tap into an audience of voters who are giving up on traditional media – partly because of the blanket coverage that newspapers and television gives to the hustings a month before polling day. In any event, a lot of news is broken via Twitter these days, as detailed in a recent blog article. According to a survey by UK media regulator Ofcom the number of television hours viewed is falling, with 232 minutes viewed in 2014 a day versus 241 minutes in 2013. In the same period, usage of PCs and laptops is up at nearly 37 hours a month from 31 hours.
Social media is also more likely to reach younger voters who are less likely to be set in their ways in terms of who they will vote for. So winning the digital agenda with younger voters, who are also the most likely not to even bother to vote, is crucial on the road to electoral victory.
There are over 46 million UK voters registered for the May 7 General Election, but even with over 1 million Twitter followers between the main three political parties, word can spread with retweets and media pick-ups. So sensationally winning or monumentally losing the election where even the small parties are excited by the prospect that they might be invited to join in a Cameron or Miliband coalition could come down to a micro-blogging site.
The headliners:
First party leader to sign to Twitter was Welsh nationalists' (Plaid Cymru) leader Leanne Wood in April 2008.
First party to sign up to Twitter was the Liberal Democrats in May 2007
Most prolific tweeter leader is Natalie Bennett of the Green Party
Most prolific party tweeting is Scottish National Party on 22.9K (partly thanks to last year's Scottish Referendum), nearly double the accumulated tweets of Barack Obama @barackobama
Room for improvement?
Perhaps Natalie Bennett, Leanne Wood, Peter Robinson, and Gerry Adams might link from their profiles to their own parties' twitter accounts
Sources: @David_Cameron, @Conservatives, @Ed_Miliband, @UKLabour, @nick_clegg, @LibDems, @NicolaSturgeon, @theSNP, @natalieben, @TheGreenParty, @Nigel_Farage, @UKIP, @LeanneWood, @Plaid_Cymru, @DUPleader, @duponline, @GerryAdamsSF, @sinnfeinireland