DRIVING TESCO SHOPPERS TO SEEK OUT MISSION WRAPS
Let's set the scene…
After securing a new listing in selected Tesco stores – adding this supermarket retailer to their other listings in Sainsbury's and Asda – Mission Wraps now needed to set their sights on retaining and increasing their shelf space. They were up against a rival brand in the wrap & flatbread space, and sales in the selected stores would dictate which brand Tesco would continue to stock going forward.
Competition for shelf space is already high, with own brands prioritised at eye level and often at a lower price per pack. In addition to shelving issues, social data showed a 28% rise in mentions of own-brand products between January and February, suggesting that supermarkets were continuing to claw market share back from brands – we knew this was a challenge Mission would be facing from all angles.
There was also pressure on timing, as the listings had been agreed to begin in early April, but that agreement was only reached in the 2nd week of March. As such, we had just a few weeks and a budget of £12,500 (an average per store of just £52!).
So, how could we prime the shoppers in the specific towns to seek out the brand in-store, purchase, and trial, with limited time and budget?
A strategy packed full of detail
With our aim to keep Mission Wraps front of mind for Tesco shoppers, we began to craft our detailed strategy that would seek to increase the mental availability of the brand through clever paid targeting.
First, we looked at our target audience, which was something we had on lockdown already, and had an especially tight hold on the demographics of (female, 35+).
From here, we identified hyper-local geo-targeting would be the most effective for priming shoppers in the task at hand, and determined that the strongest channels for this route would be:
Facebook/Instagram (Meta)

Postcode targeting with pin-drop radius application to reach users living in, or recently in our target locations

Interest keywords including affinity brands such as Cow & Gate and Anchor
(Data supplied by Mission Wrap's partners)
Users who also matched an interest in Tesco
Pinterest

Postcode targeting to reach users living in target locations

Interests in food & drink and parenting

Keyword builds for all combinations of wraps, tortillas, and lunches

The channel also provided examples of Tesco themselves successfully using the platform for Recipe Rich Pins, driving users to their eCommerce site, so we trusted the audience would be receptive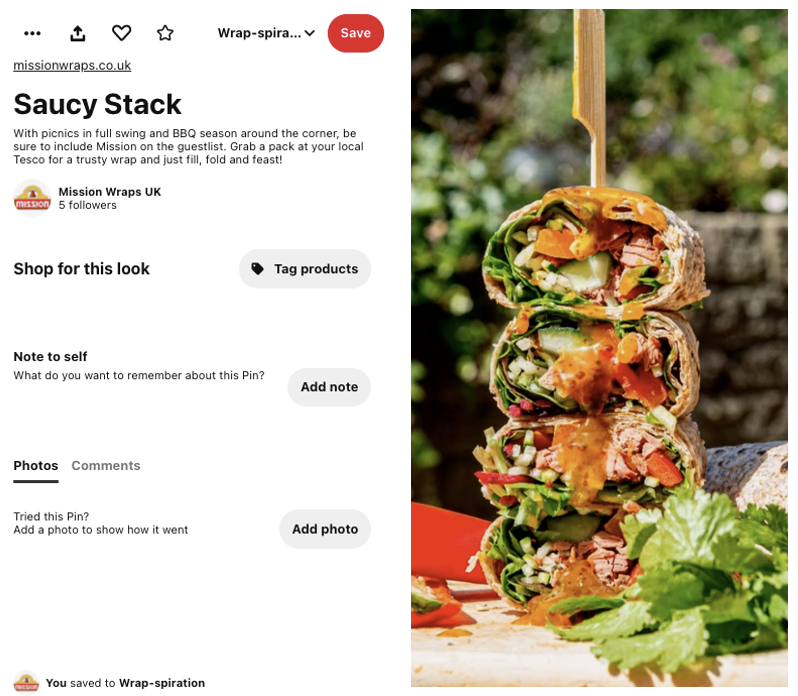 Through testing out campaign builds, we could determine that these niche target groups would result in an increased frequency of up to 4, versus a broad campaign resulting in a frequency of 1 during the campaign period.
We knew that aiming for a higher level of exposure such as this would increase the likelihood that our target group would add Mission Wraps to their shopping list for their regular stock-up, daily shop or fill-in – all influenced by the various paid touchpoints presented to them throughout their socials.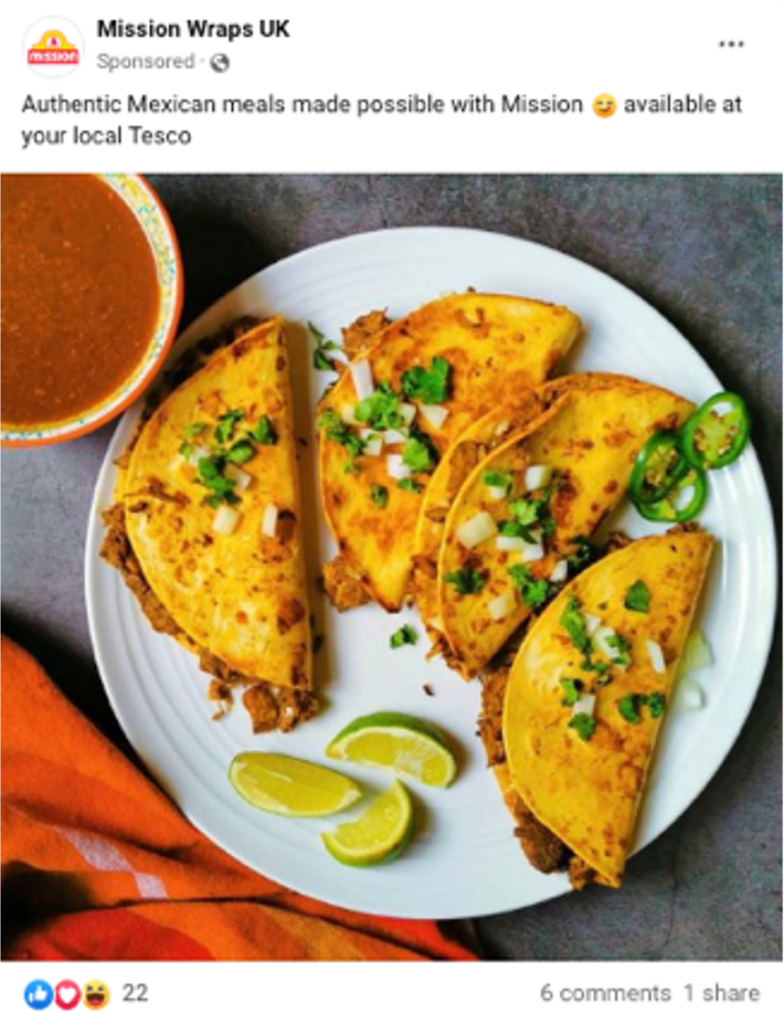 By digging deep into planning, and pushing through with clear objectives, we were rewarded with some seriously tasty results.
Tasty results

There can be real precision in paid if you take the time to pull together consumer data, technical expertise, and creativity!
Set & forget is not our bag. If you're looking for a detailed approach to build incremental results, get in touch today!
*Source: Category report 2022 – The Grocer