CREATING THE PERFECT VALENTINE'S DAY FOR ALL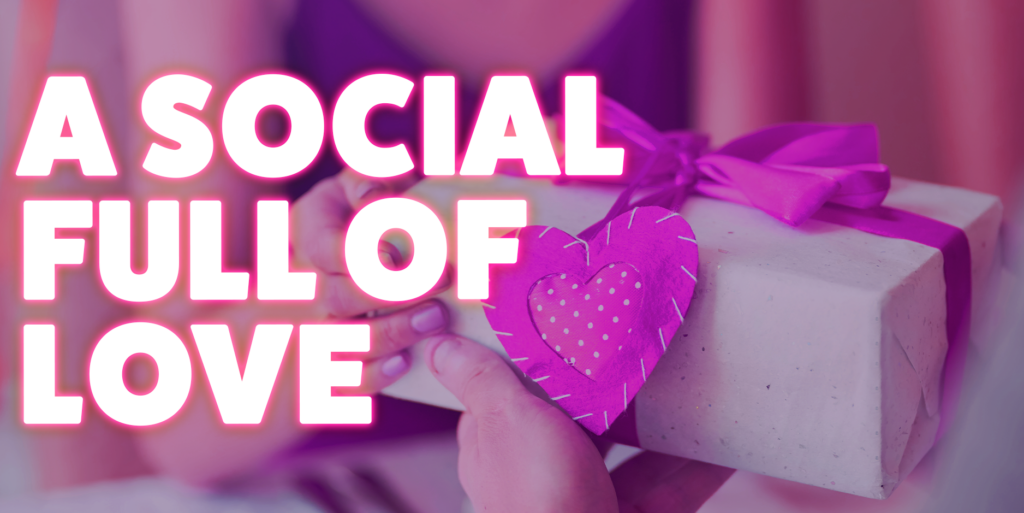 How can an eCommerce brand win the hearts of its audience for
Valentine's Day?
A strong social media strategy includes making the most out of what is trending in your industry, and every February (and earlier) Valentine's Day is the hot topic on everyone's lips in eCommerce!
But consumers don't all approach Valentine's Day in the same way, and their purchasing habits differ per persona.
We needed to create something that would satisfy the wants and needs of each audience segment, whilst answering OnBuy's objectives. So we put our heads together and started planning a campaign to do just that.
What Is The Audience Saying?
We started our strategic planning by using shopper insights on the social listening platform Brandwatch. Here we were able to identify conversations by occasions throughout the year, which influenced our overall campaign strategy.
In our research, we looked at mentions of the most common gift types that users were talking about on social.
Unsurprisingly, Chocolates were one of the most mentioned gifts at 28%, with Jewellery (24%) and Flowers (14%) indexing slightly lower.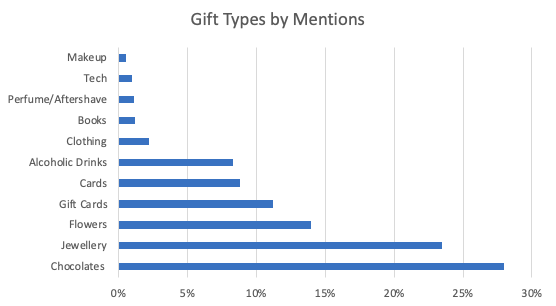 Overall, social listening showed us that audience sentiments around Valentine's Day were mostly positive (61%) from consumers, however, the negative mentions typically included criticism that the occasion was over-commercialised and expensive.
We took this information into consideration when developing our creative idea, as we needed to make sure it wasn't too promotional. This was something we'd already applied to our Christmas campaign a few months prior "Although OnBuy is an online marketplace, it doesn't mean that their social marketing should be wholly focused on the hard sell of products".
Time To Get Our Thinking Caps On
Once we captured the data, we needed to look at OnBuy's key objectives:
Engaging with four different audiences
Driving awareness of the brand on social
Increasing relevancy and relatability
Driving traffic to site from social
Tying back into OnBuy's vision of being "the best choice for every consumer, everywhere", we wanted to create a campaign that championed the way in which everyone's approach to Valentine's Day is different, and how OnBuy's wide product range helps to meet the wants and needs of each type of consumer during the seasonal period. This led to us recreating the ideal version of Valentine's Day for each audience persona.
"With OnBuy, you can create your own perfect version of Valentine's Day… For them or for you."
Now it was time to get creative with the content. We utilised a dynamic selection of creative tactics throughout social, to push the Valentine's Day message, whilst also meeting the campaign objectives.
Here's what we did:
We tailored the OnBuy logo to be more seasonally relevant by turning the 'B' into a heart and using a traditional Valentine's Day colour theme.
This logo change was reflected throughout all social assets during the period for uniformity in the messaging.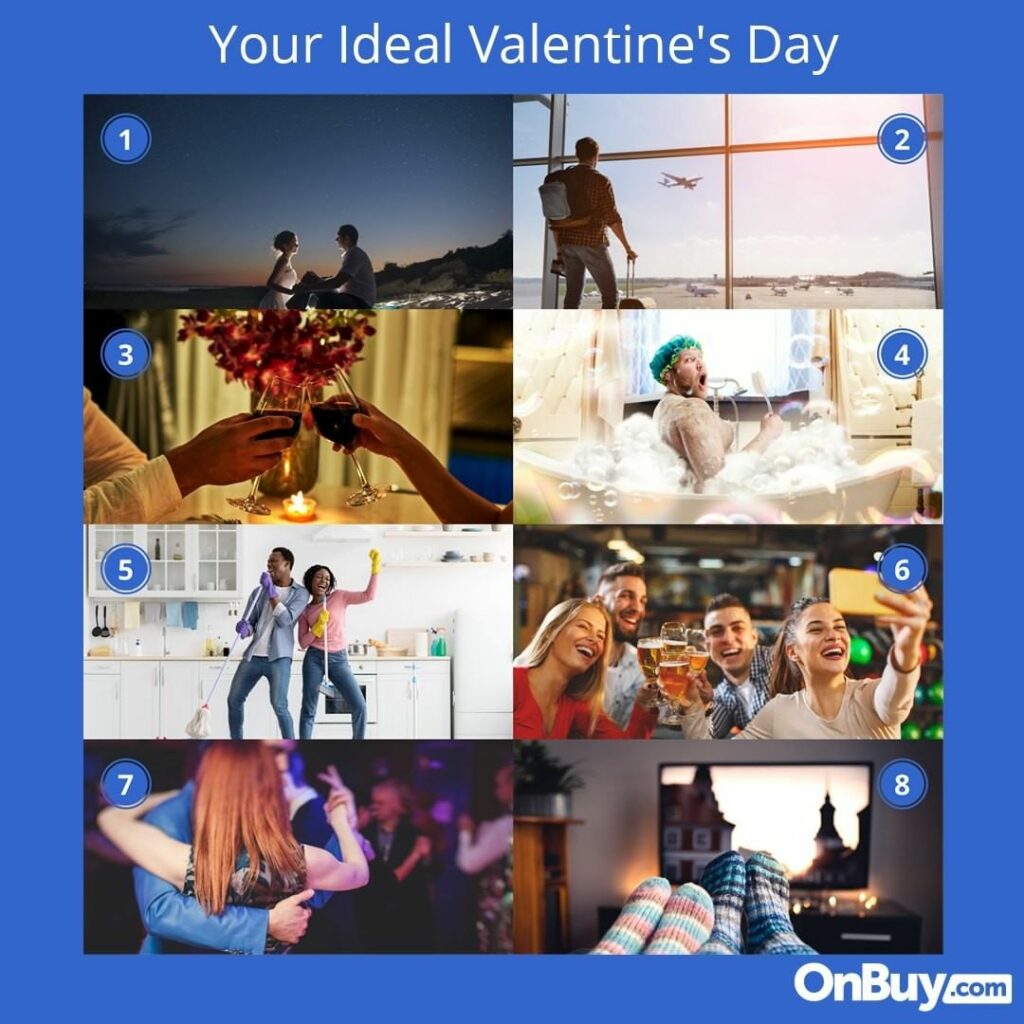 We drove engagement through posts that the audience could interact with such as the asset shown here.
The asset featured 8 images depicting the different ways someone might celebrate Valentine's Day. In the copy, we encouraged the audience to comment with the number on the image that was closest to their ideal way of celebrating.
This activity meant that we could appeal to all audiences at once, in a lighthearted and interactive way.
We appealed to our audience's humour by creating assets with subtle nods to 'adult' gifting that would be safe on the newsfeed and make them laugh.
The subtle nod involved adding a vibrating noise and motion to a video of a gift box, with a 'sound on' call to action in the post copy so that the audience could get the full experience.
All Campaigns Need A Hero
And now for the hero video. Using all the consumer data we'd unearthed in our research, and learnings from our Christmas campaign, we produced a hero video that went through the various scenarios that the audiences could find themselves in on Valentine's Day.
Take a look below:
Was It Love At First Sight For Our Audience?
The campaign was published across Facebook, Instagram and Twitter, which consisted of a hero video and supporting engagement-style posts to reinforce our messaging.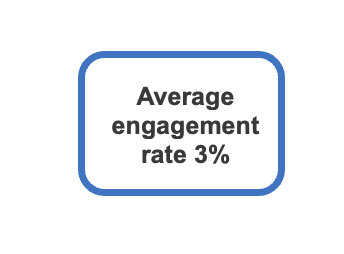 It was definitely love at first sight for our audiences as the campaign received an overall engagement rate of 3%*
*2022 Social media benchmarks for eCommerce (2.98).
In addition to our strategy for tailor-made content; we upped the ante on community management and audience engagement, which led to an increase in positive sentiments shown through earned media, comments and organic mentions.
OnBuy's Valentine's campaign was a meaningful illustration of how important is to listen to your audience and let the data lead your strategy for the best results.
Interested to find out how we can make your social content pop too? Click here to find out more