November 22, 2021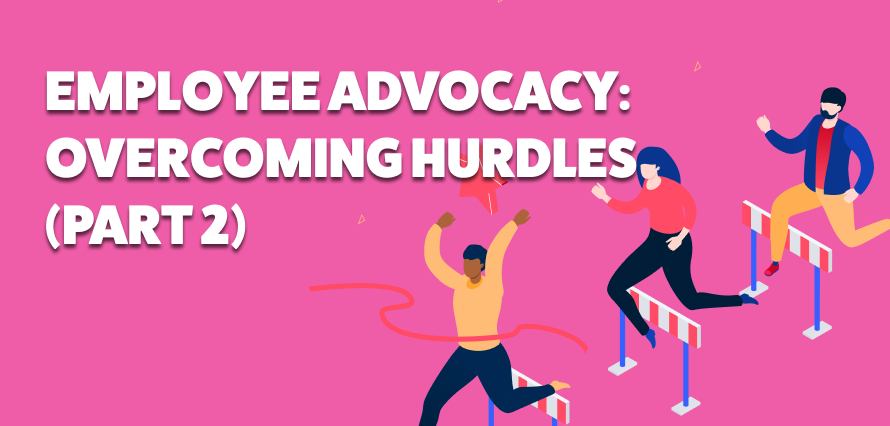 This is part two of our Employee Advocacy: overcoming hurdles series. For part one, click here: https://immediatefuture.co.uk/blog/employee-advocacy-overcoming-hurdles/
We're back with our employee advocacy series, recapping all the great insight that was covered in our recent webinar Fixing Holes in Employee Advocacy with Katy Howell, CEO at immediate future, Malin Liden, Vice President and Head of EMEA Marketing Transformation Office at SAP, Anita Veszeli, Director of Social Media and Advocacy at Ericsson and Tim Williams, CEO at Onalytica.
In our last blog, we tackled some of the biggest issues facing employee advocacy programmes: motivating employees, measurement, and leadership buy-in. Today, we're taking another trip down memory lane to uncover and address the other key barriers facing marketers today. Alright, let's do this:
Content:
When it comes to advocacy programmes, many marketers struggle with the balance between curated and created content. Anita Veszeli states that while generating content at her large organisation is a non-issue, finding different sets of content pieces outside of branded content has been a struggle. "Our sales teams need different [content] than what our network engineers need or the people who work in R&D need."
Our panellists agreed that disseminating content is no easy feat and that there needs to be a balance between making it easy for employees to share content while also giving them the space to create content pieces that ring authentic to them.
So, what's the solution? Organisations must empower their employees to create and own their content, by highlighting the benefits of expanding their networks through sharing their ideas and opinions. At the same time, they need to provide the training and resources to allow team members to feel confident and empowered to create and share their own pieces.
Budget:
Surprisingly, this was our lowest-ranked barrier with only 4% of respondents citing it as their top struggle. An employee advocacy programme can run without major investment, but optimally, streamlining and optimising through tools will allow it to scale and reach external audiences.
Tim Williams is an advocate for levelling up through technology, arguing that it is vital to achieving external impact: "Everyone feels like they've got fantastic employees with loads of expertise, but sometimes they feel like they're just talking internally into their own internal network. So, how can you transform those wonderful employees and the expertise that they have to content which is driving external impact?"
Influencer tools like Onalytica can do just that by connecting brands to communities, inspiring employees to generate and engage with meaningful content.
That's a wrap on our Employee Advocacy series. If you're just joining now, there's lots more content to unpack:
If you'd like to discuss your employee advocacy programme, drop us a note here.