January 19, 2023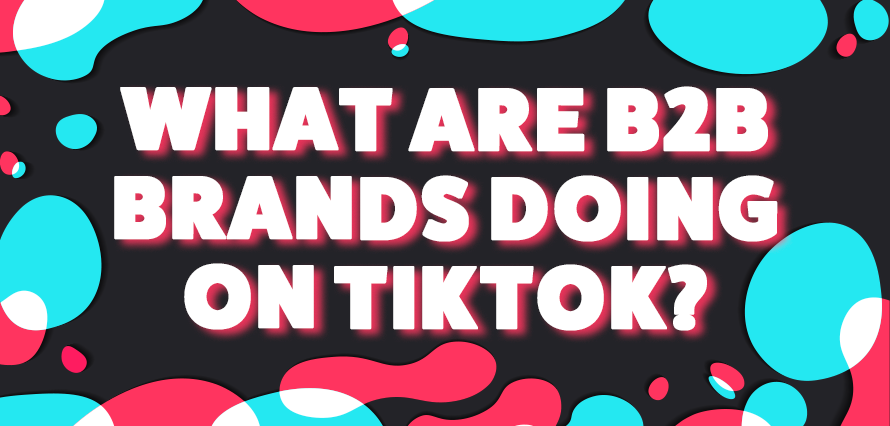 Okay, you've probably heard about TikTok. I swear I hear "I saw on TikTok that…" or "OMG have you seen the TikTok where…?" about 20 times a day. I was not shocked when I saw that TikTok has been downloaded 3.5 billion times worldwide, and that it is projected to reach 1.5 billion users this year. It was indeed, the most downloaded app of 2021, becoming one of the leading marketing platforms for B2C brands. I mean, the "TikTok made me buy it" trend speaks volumes about the power of this platform in influencing consumer purchases. But… what about B2B? What can B2B brands do on TikTok? Is this platform only suitable for B2C? The short answer is… NO! There's so much potential for B2B brands on TikTok. And if you don't believe me, keep reading 👇
Well, first of all☝️you might be wondering… "Is my audience on TikTok?"
To keep it short and sweet – Yes! Most probably, yes. Our CEO Katy Howell has done the maths:
"GWI data from Q3 last year shows that 13% of MAU are 16-24 globally. Meaning 87% are grown-ups! In fact, 25-34 age range over indexes for use of TikTok!"
And not only that. 74% of 21–40-year-olds are involved in the buying decisions of their companies. So if you still think that TikTok is only for teenagers, sorry to bust that myth for you, but that was a long time ago. I'm not saying your potential audience is there to see exclusively a bunch of B2B brands. But TikTok can help develop that emotional connection with your audience, and, eventually, make them remember you when the purchase decision comes in to play. We won't stop saying this: TikTok is great for awareness.
What can B2B brands do on TikTok?
If we think of TikTok, we probably won't directly relate it to B2B marketing, however we will be missing out on many opportunities. I'm telling you… this platform is really, really powerful. If you still don't believe me, read this article.
So, without any further ado, here's a summary of what we have discovered successful B2B brands are doing on TikTok: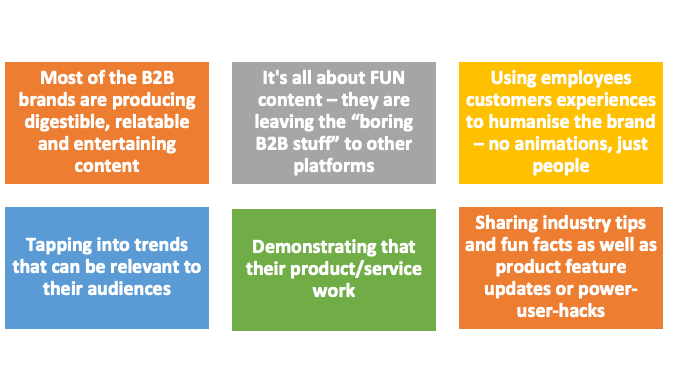 B2B brands also produce relatable and entertaining content!
As Christina Perri said: But I'm only human 🎵 Because at the end of the day, B2B brands are run by humans, humans with likely similar life experiences to yours, who are looking to add a bit of humour to their everyday life. There's nothing we like more than to see something and say "OMG this is me!". TikTok enters the room 😉
Here are some examples of how a B2B brand can be relatable, and still be relevant to what they offer:
And talking about being humans… TikTok is the perfect tool to humanise B2B brands.
79% of TikTok users agree that this platform is a place where brands can express their personality.
Some B2B brands launch campaigns in order to humanise their brand, but also to convey different messages and a different tone of voice than they often use in other channels.
A perfect example is SAGE with their #Bossit2021 campaign, where they asked small businesses to share their experience on how they dealt with the pandemic in 2021.
Sharing customer experiences is a great way to show that your product works. How, do I hear you ask? 👇
You👏can👏be👏fun👏while👏promoting👏
Yes. Your B2B brand CAN be fun. And it should. Most of us think that TikTok is the KING of entertainment platforms, and users want digestible, entertaining content. If you want to promote your product or service but you think it has to be a very informative and probably boring post to attract your potential customers… Well, check these examples and think again!
"Have you seen the new trend on TikTok?"🙄
We've all been caught singing a trending song/sound at the office. Or doing a little trending dance at our desk. This is such a great opportunity for a B2B brand to increase brand awareness while (again) being relevant to your audience! Don't think that trends are only for users or B2C brands. Look at these brilliant examples:
Don't you think every day is a school day? On TikTok it really is!
The number of things I've learned of TikTok… from how to properly clean my bathroom to Excel hacks. Honestly, every day I learn something new. The hashtag #LearnOnTikTok has almost 500B views. Five hundred billion! 🤯 So, if you were looking for a platform to educate your audience… TikTok is the answer. Check these examples of educational yet entertaining videos by big B2B brands:
To sum up, you can also create impactful content on TikTok for your B2B brand. But, if you are still not sure how, take a look at the full report – How B2B brands are using TikTok.