70m+ travel conversations, also reveal a trend towards small networks, increased mentions of friends and family and a change in channel usage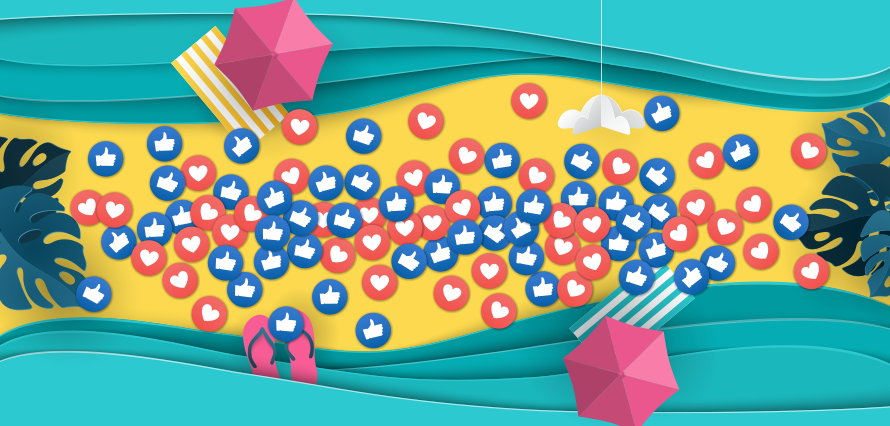 There's a shift in behaviour amongst those (virtually) chin-wagging about their holibobs on social. How do we know? Well, we've dug into the dirty data, cleaned it up and packaged it up into a glossy travel report giving brands a REAL insight into how the landscape on social has changed.
Dark social matters.
12 months ago, we noticed consumers turning to forums and dark social (platforms such as such as Messenger or WhatsApp) to get reccs, address booking issues and finding out how to squeeze the most out of their chosen destination.
According to GWI, 'UK holiday-goers are 19% more likely to say they're easily swayed by other people's opinions and holiday buyers are turning to smaller networks of friends, family and known communities.'
Consumers find reassurance and trusted opinions from these smaller networks, but are blinded by unnecessary razzmatazz on social, which at worst creates suspicion, further driving the audience away from your channels. Consumers NEED to see genuine content, none of this showy, over produced content which took an hour to manufacture. Audiences want to read real reviews, see quick snaps and form real connections.
Katy Howell, CEO at immediate future says: "Brands need to be focused on quality content if they intend to make an impact. And that means being focused on trust drivers such as personality, consistency and genuine connections."
Lets get REAL
Being REAL in the real world is only part of the process. Luckily for you, "Sun, Sea, Social and Search" delves deeper into the travel conversations. Outlining everything from the conversation topics, why being emosh can work in your favour and first class data and recommendations from Re:Signal; that will help you determine an effective way to communicate with your vast array of audiences.
For example, did you know that visual search / Google images are getting more important as a key driver for awareness around destinations? And whilst image search on Google steps up, the channel behaviours have changed. Twitter is driven by more reactive, 'life in the moment' type interactions. And Instagram is a different ball game all together.
Katy explains that: "Instagram is less about the destination, city or country. Instead we see more focus on seasonality, holiday types (beach, nature, adventure) and specific attractions, alongside history and art. Posts reveal more detail or interesting facts, rather than just showing off a perfectly posed picture."
Interesting stuff, right? And there's plenty more where that came from. Just follow the link for a free downloadable version of Sun, Sea, Social and Search' and dive into the unmissable holiday insights your brand needs to launch your travel content into orbit.
Download the full report free here: https://bit.ly/3atYLCx